The Dallas-based firm hails this elite Chicago show as one of the best in years with a laser focus on the commercial market
Koenig & Bauer Rapida LiveApp technology garnered prestigious 2018 InterTech technology award
New VR Experience displayed the Koenig & Bauer Rapida 106 in exciting virtual reality
Thousands of popular world and U.S. maps along with colorful posters were distributed to attendees
As the largest trade show for the North American graphic arts community came to a close on Oct. 2 after three full days, Koenig & Bauer (US) declared its participation at PRINT 18 in Chicago to be a resounding success. Celebrating its new corporate branding for the first time in North America, the newly designed booth was a busy centerpiece anchored by the firm's impressive worldwide logo--a large ampersand—conveying the link between the firm's founding fathers as well as its strong connection with its loyal customers.
"This year's show saw an unprecedented increase in the number of high quality visitors," says Eric Frank, Koenig & Bauer (US) senior vice president of marketing and product management. "The Koenig & Bauer booth was an essential stop for any size of commercial printer visiting the show. We attracted successful printers who sought solutions to their challenges, who were eager to learn more from our knowledgeable team of sales experts, and see our wide line of award-winning digital and offset presses, leadership in LED-UV, and the latest new pioneering technology. Our visitors have capital and are ready to invest for their future. There certainly was an exciting buzz throughout the floor about Koenig & Bauer."
Another popular stop was the new VR Experience at PRINT 18, which was created by The Association for PRINT Technologies along with Clemson University. Here attendees were able to see the makeready champion Koenig & Bauer Rapida 106 in action with speeds up to 20,000 sph and experience its technology for the highest productivity and fastest makeready in virtual reality. Visitors who wanted the full immersive experience could don VR gear to virtually interact with the Rapida 106 press in ways one never could in the real world. For example, they were able to poke their heads into the side of the press and examine the rollers while the press was running.
At a special event on Sunday evening, Koenig & Bauer was represented by Eric Frank and the firm's management team to receive the prestigious 2018 InterTech technology award for its revolutionary Rapida LiveApp. Recognizing truly unique and innovative first-of-its-kind technology, the award was presented to Koenig & Bauer because the Rapida LiveApp gives press operators the power of the press in the palm of their hand, offers control of press operations and critical press information right at a press operators' fingertips on easy-to-carry mobile smartphone devices, integrates video content to help an operator interactively learn and also implement important machine processes such as blanket changing or roller adjustment, and incorporates both a maintenance manager and functions for inventory management. To market its new product, the Rapida LiveApp was available to see in person at the booth along with the ProductionApp for inventory management and monitoring. Visitors sought out Chris Travis, director of technology, to help explain its features and benefits.
Due to popular demand, three different varieties of posters returned to the booth after a one-year absence to the delight of crowds. Technology highlights and production details were provided for the throngs of visitors. The booth's walls were decorated with easy-to-follow visuals of the RotaJet L digital press detailing its modern upgradeable design, high quality printing, and cutting edge inkjet technology, and the popular Rapida 106, the world's fastest press that is designed for quality production at commercial shops. Of course, the booth's bar remained busy throughout the three-day event, serving its delicious German brats and cold German beer.
Koenig & Bauer (US) is located in Dallas, Texas and a member of the Koenig & Bauer Group, which was established 200 years ago in Würzburg, Germany. Koenig & Bauer's claim, "We're on it." gets to the heart of Koenig & Bauer's values and competencies for all target groups. The group's product range is the broadest in the industry; its portfolio includes sheetfed offset presses in all format classes, post press die-cutters, inkjet presses and systems, flexographic presses, commercial and newspaper web presses, corrugated presses, special presses for banknotes, securities, metal-decorating, smart cards, glass and plastic decorating. For more information visit the company's web site at www.koenig-bauer.com.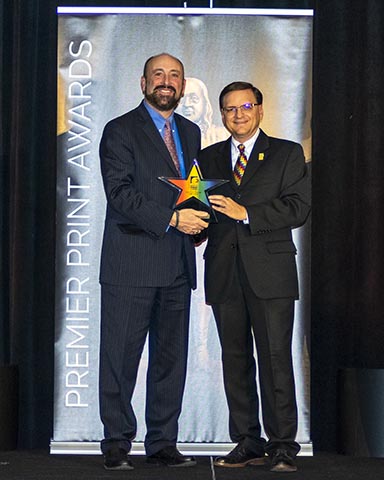 Eric Frank (left), senior vice president of marketing and product management at Koeng & Bauer (US), accepts the prestigious 2018 Printing Industries of America InterTech Technology Award from Bryan T. Hall, president/CEO of Graphic Visual Solutions and chairman of the Board of Directors of Printing Industries of America.