Dresdner Sportclub's media day at the press manufacturer in Radebeul
Photo and video recordings for new season taken at printing press manufacturer
Two players nominated for World Cup in Japan
Club calendar printed by Koenig & Bauer Sheetfed
On September 14, parts of Koenig & Bauer's Radebeul plant were transformed into a volleyball arena. As part of their media day, the volleyball players of the first division club Dresdner Sportclub came to the Saxon printing press manufacturer. All the photos and videos for the new season were taken here - from various image and team photos to portrait photos of the players. They are used on the club's website, in programmes, on posters, in the season magazine, for autograph cards and social media. Additionally, media representatives were given the opportunity to make their own recordings.
Ralf Sammeck, CEO of Koenig & Bauer Sheetfed, and Dirk Winkler, head of process engineering and an enthusiastic volleyball player himself, have had contact with the club for years. They invited the players, two of whom have been nominated to take part in the World Cup in Japan, and their coaches to a photo shoot at Koenig & Bauer. The coveted calendars of the successful sportswomen have also been printed here for some years now.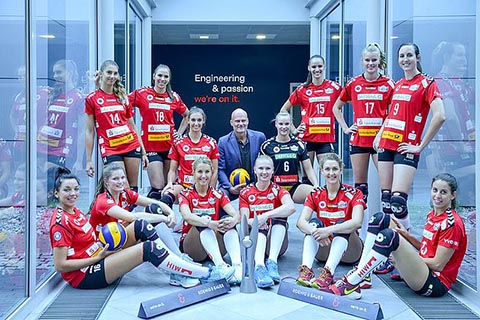 Dirk Winkler, head of process engineering at Koenig & Bauer, among the successful volleyball players from Dresdner Sportclub.