Basis for knowledge exchange created amongst educational institutions
Lectures, workshops and printshop visit
Strong interest and lively discussions
In July university lecturers from Egypt visited Koenig & Bauer in Radebeul near Dresden to learn more about cutting-edge, effective and resource-saving printing technology. The aim of the one-week event was to provide participants with a comprehensive understanding of current solutions and concepts and to create a basis for the interactive exchange of knowledge at the educational institutions.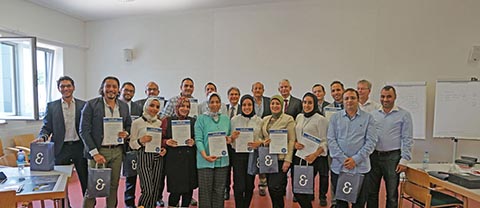 Happy faces after an interesting and intensive training week: Lecturers from Egyptian educational institutions proudly present their certificates.
The training program included print demonstrations, factory tours and practical workshops. The teachers familiarised themselves with automation solutions on the Rapida 106 as part of the week's practical part. Other workshops looked at inline measurement and control technology on sheetfed offset presses, the Rapida RDC 106 rotary die cutter and flatbed die cutters from KBA-Iberica. Naturally, the participants also visited a printing company that operates sheetfed offset technology from Koenig & Bauer.
The program was supplemented by a presentation on know-how transfer by the Dresden Chamber of Industry and Commerce and information from Commerzbank on financing investment goods.
The training course was organised with the key support of the Egyptian Chamber of Printing in Cairo and printshop El Safa, a large packaging printer which operates Koenig & Bauer presses in Alexandria. It is seen as a continuation of intensified market development with the new sales partner Sidhom. The participants came from the Arab Academy for Science, Technology & Maritime Transport, the General Organization for Government Printing Offices (Al Amiriya Printing House), Akhbar El-Yom Academy, Helwan University, the High Institute of Applied Arts, the Egyptian Armed Forces, Bibliotheca Alexandrina, Pharos University and Alexandria University.
Sven Strzelczyk, sales director at Koenig & Bauer, is pleased with the broad level of interest in the event: "Our goal was to inform the visitors about what role we in Saxony can play in modernising the graphic arts industry in Egypt." Lively discussions showed that the visitors and lecturers enjoyed the varied itinerary.