Oosterhout – Soon, Prensa Libre, the reference newspaper in Guatemala, will be printed with the aid of Q.I. Press Controls (QIPC). The plant which is responsible for printing the paper has decided to invest in the mRC-3D system for color register and cut-off control for their recently purchased manroland UNISET press. Thanks to the new system, Prensa Libre expects to see greater efficiency, less paper waste and quality improvements.
It is the first time that the Guatemala-based printing concern has entered into a partnership with Q.I. Press Controls (QIPC), the Dutch specialist in measurement and control systems for the printing industry. Print2Finish agent Juan Echavarria was responsible for bringing the two companies together. "QIPC is an exceptionally strong business with a technical background," says Luis Núñez, deputy director of commercial affairs at Prensa Libre. In opting for the system, he sought counsel with several large international partners of QIPC. "We were won over by the favorable references we received. They were extremely helpful, especially when we want to be sure about the success of our project."
Modern equipment
Prensa Libre's project consists of two used manroland UNISET towers which have been purchased in recent years (2015 and 2017). Both towers are being equipped with two mRC-3D cameras for color register. In addition, the two folders and sheeter are to be fitted with mRC-3D cut-off control. "The expectation is that this will bring about savings in time as well as waste," explains Luis Núñez. "What's more, thanks to the state-of-the-art equipment supplied by QIPC, we can improve the quality of our printed matter." The total of seven cameras being installed in Guatemala City are all fitted with Automatic Ink Mist Shields (AIMS) for automatic cleaning of the lenses.
Newspaper with a reputation
QIPC can't hide its satisfaction about landing the order from Prensa Libre: according to Ronald Reedijk, managing director of QIPC-EAE Americas, the paper has a solid reputation, being founded in 1951 and with a circulation across the length and breadth of the country. "So we're delighted that our systems are soon to be working in their printing plant," he continues. Ronald Reedijk applauds the work of Print2Finish, who succeeded in bringing the two companies together, and is delighted by the faith shown in QIPC by Prensa Libre. "The printing concern reached a clear decision on the basis of talks held with other QIPC users. Despite fierce competition for the project, our reputation in the market is still proving to be the best advertisement for our systems."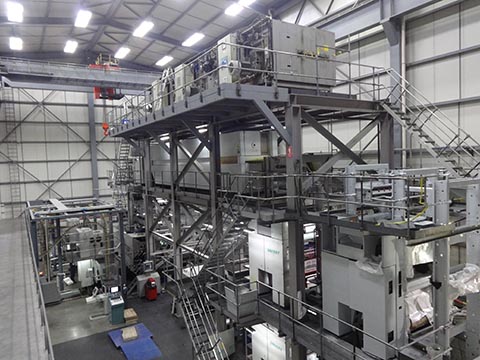 Prensa Libre's press line.