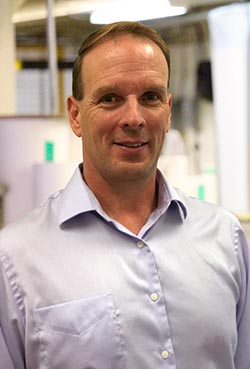 Toronto, Canada – Drytac, an international manufacturer of self-adhesive materials for the print, label and industrial markets, has announced the appointment of D'Arcy Lewis to the role of Technical Sales Manager for the company's industrial division. D'Arcy will be responsible for increasing Drytac's custom and contract adhesive coating business in the packaging, construction, medical, automotive, label, and industrial markets throughout North America.
With manufacturing facilities in North America and Europe, Drytac specializes in adhesive coating, laminating, top coating, and converting of flexible substrates such as PVC, PET, paper (synthetic), fabric and metallized film. Drytac offers unique adhesive coatings which include ultra-removable and repositionable adhesives, easy-to-apply, bubble-free adhesives, ultra-strong, high-tack adhesives and patterned adhesive coatings.
D'Arcy joins Drytac with over 18 years of experience from Advanced Polymers International, where he most recently served as the General Manager. He holds a bachelor's degree from Columbia College with a double major in business and history.
Upon D'Arcy's appointment, Hayden Kelley, CEO, comments: "We are excited to welcome D'Arcy to the team. He brings a wealth of knowledge in the custom adhesive solution sector of Drytac, alongside a great sales management skill set."
To learn more about Drytac's custom solutions, please visit www.drytac.com or email D'Arcy Lewis at [email protected]. You may also directly connect with him on LinkedIn.