West Caldwell, N.J. – The crew at K&R Plastics (www.krplastic.com) know first-hand the difference a year makes. The plastics industry remains red-hot in terms of production and job creation, and the Austin, Texas company is right in the thick of it. Twelve months after installing a new Colter & Peterson SABER® XXL paper cutter with a PRISM® unloader and Microcut® PLUS electronics, they have experienced impressive results across the board.
"The SABER is a real workhorse. It has helped triple our production and because of its capabilities, we take in every kind of job we can get. There isn't much we can't do with it," stated Will Peter, K&R Plastic's production manager.
From data management to equipment modification and an expanded list of materials they now cut, K&R Plastics has upped its game performance. Especially noteworthy is how the SABER XXL has helped improve turnaround times and quality control.
"Most of our jobs are done the same day they come in. Run sizes vary between 25,000 to 77,000, and we typically print 250 sheets and above. Customers like our one day turnaround but we usually beat our deadlines with this machine," said Peter, who took the SABER XXL's Microcut data management feature one step further.
"I created a product spreadsheet that tells us the time and how long it took us to run each job through the cutter. It saves us a lot of time and helps give our customers accurate lead times, which is very important information for them. We know how quick it takes to cut specific jobs. With custom jobs, it's almost 100 percent accurate to know exactly how long it will take to cut the material and ship it to the customer."
That information is critical in this day and age, considering the most recent available statistics from the Plastic Industry Association's 2017 Size and Impact report. The demand for plastics topped $404 million in shipments in 2016, with Texas employing almost 75,000 workers. Plastics remain among the state's largest manufacturing sectors in shipments, trailing only oil and gas extraction and automobiles.
The majority of K&R's North American customers are in the printing and marketing industries. In business since the early 1980s, K&R uses 10 types of print-grade plastics – the most popular being vinyl – for a significant portion of work that involves displays, business cards and credit cards. They produce millions of pounds of material monthly and ship the work from Austin to four distribution centers – from Connecticut and Florida to Illinois and Nevada – to service customers, including those in Canada and Mexico.
Peter said the type of work, combined with the cut angle and high accuracy needed and the fast turnaround nature of the business, all factored into the decision to invest in the SABER XXL. It cuts with a double bevel blade, providing a big advantage to trim thicknesses up to 6 mil and a wide range of sizes, from 3-inches by 48-inches to the largest size of 60-inches by 40-inches.
"Having the double bevel blade definitely improved our ability to do a greater variety of work and trim tougher material without breaking it," Peter remarked while praising the 1/64th of an inch accuracy. "It's made a huge difference since the first blade leads into the cut and the second blade gets through it with no damage. We square cut a lot of material and go as high as 60 gauge, but we get a real smooth edge at 40 gauge. The SABER saves us a lot of time by cutting large stacks of 3-1/2 to 4-inches of material at a time when we trim 12 or 15 gauge."
The machine also has given Peter and his group the opportunity to experiment in other ways.
"We're now doing some work involving APET. It's very similar to polycarbonate," Peter said of the high volume, thin gauge packaging material. "We print it on 28-inch by 40-inch sheets, square cut and trim it down for custom jobs."
The experimentation extended to the PRISM unloader. Designed for easy stacking of material prior to cutting, Peter made some modifications to improve its off-loading speed. "We played around with the two gates and the grooves at the bottom of the grate. Now the material slides off the table and we can turn the cut stacks much faster."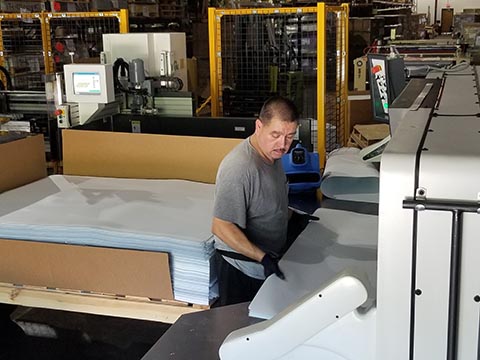 Since installing a SABER XXL paper cutter a year ago, K&R Plastics has tripled production while improving turnaround times and quality control at its Austin, Texas facility.