CERADROP, a MGI Group company, has supplied LAAS-CNRS with its State-of-the-art equipment – CeraPrinter F-Serie. The French Laboratory for Analysis and Architecture of Systems concentrates its efforts on major scientific orientations for emerging systems and services of the future. To anticipate the major challenges of applications, LAAS-CNRS is oriented on the main scientific axis, based on 4 disciplines in Computer Science, Robotics, Automatic Control & Micro and Nanosystems. CERADROP has provided such a prestigious and innovative Laboratory with its cutting-edge equipment for advanced R&D to address the most challenging R&D goals. The business model of CERADROP is based on design and manufacturing of advanced CeraPrinter Platforms for Printed Electronics and Smart 3D Printing.
The high-end equipment provides the users with flexible solution to design and print complex functional multi-material devices. The offer is based on materials science strategy and modular-based scalable concept permitting the customers to select the most appropriate configuration for the tool. The choice is focused on advanced digital printing technologies in combination with the latest post-processing modules and characterization units. CERADROP is proud to be selected by LAAS-CNRS and highlight this mutual collaboration and struggle for significant results in emerging applications of Tomorrow." – stated Nicolas BERNARDIN, Deputy Managing Director at CERADROP
"The CERADROP instrument is operating in the new MultiFab platform for the additive manufacturing of three-dimensional, high-resolution objects suitable for rapid prototyping, whose areas cover the, aerospace industries, aeronautics, electronics, optics or biomedical sectors. The objective of this platform is to set up a 3D printing additive manufacturing platform covering scales ranging from micrometer to macroscopic and in which multi-material can be implemented. This platform will be in very strong interaction with not only academic research, but also with the industrial sector; MultiFab is lean back to LAAS's large micro and nanotechnologies platform, a member of Renatech network.
We chose the CeraPrinter F-Serie because, to our knowledge, it is the only machine on the market that offers a varied combination of technologies:
inkjet multi-nozzle and/or single and/or aerosol jet®
integration up to three online annealing modules as UV LED, near infrared and photonic.
The equipment therefore gives the possibility of depositing various materials ranging from inks filled with nanoparticles to polymers or biological molecules. This is our field of application and our first achievements confirm that we have made the right choice. In addition, our inkjet experience with another manufacturer allowed us to say that the different software developed by CERADROP are the most advanced ones.
To conclude, CERADROP teams (commercial, technical and training) were very attentive to our needs. We are very confident for the future because of the strong professionalism of CERADROP company." – noted Fabien Mesnilgrente and Véronique Conédéra from LAAS-CNRS.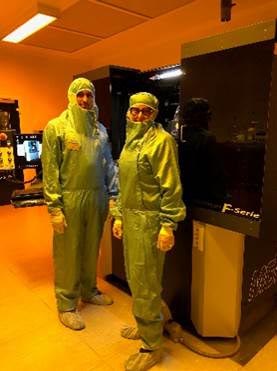 LAAS team in Inkjet area.