Alfred Mast responsible for EFI Fiery XF business in Europe
Bergisch Gladbach/Germany – Tecco and EFI used Fespa Global Expo 2018 in Berlin, Germany to communicate innovations: Alfred Mast takes over the Fiery XF business and introduces the newest version, version 7.
Partners of both companies were invited to a Meet and Greet event during Fespa. After a reception on the roofs of the TV tower at Alexanderplatz, Alfred Mast was introduced as the new Sales Manager for EFI's Fiery XF products responsible for Europen business, along with a new Technical Sales Specialist Ralf Huerling, covering the same region.
The managing directors of both companies – Georg Hollenbach from EFI, and Arnoud Mekenkamp from Tecco – gave an outlook on future products, cooperation, and bundles on software and paper.
The paper media, supplied by Tecco in combination with the Fiery XF 7 software, developed by printing technology company EFI, offer a powerful and easy-to-use solution to the market.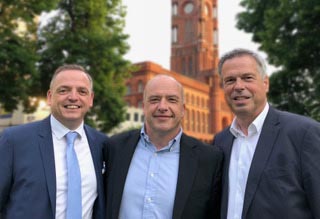 Alfred Mast (middle) with Georg Hollenbach (right) and Arnoud Mekenkamp; FieryXF 7.0 and EFI proof papers.