Kolding, Denmark –Global flexo machine and equipment provider TRESU Group has appointed Innova Flexo Products SL, of Barcelona, agents for its TRESU Ancillary division in Spain and Portugal.
Founded in 2013, Innova Flexo Products has become an established provider for products from leading suppliers supporting the flexographic markets in Iberia, France and Germany. Products include doctor blades, inks, In-Mount mounting tapes, Innovabak corrugated backing material, Inn Pack pre-press automation, sleeves, mounting machines and other consumables for flexo printers.
The addition of TRESU Ancillary products, including chamber doctor blades and ink supply systems, will complement Innova Flexo Product's range, while introducing local sales and support to the Spanish and Portuguese markets.
"Advanced ancillary systems provide the solution for automatically controlling ink supply to the flexo press, and the impact they can have on performance can be dramatic," said Mario Busshoff, co-owner and president, Innova Flexo Products. "Ancillary products like TRESU's F10 iCon controlled ink supply system, MaxiPrint Concept ink supply and cleaning system and chamber doctor blades can be installed on new presses or retrofitted to existing machines, making them more competitive and extending their service."
TRESU's ancillary systems reduce ink waste and consumption while contributing to improved print quality. They control pressure, viscosity and flow rates, thereby eliminating contamination and manual intervention. Shorter set-up times and tighter tolerances add to the incremental benefits that contribute to overall time-saving. The ink supply system's ability to recover ink provides potential for significant savings. Presses can also run faster without loss of print quality.
TRESU chamber doctor blades, made from carbon fibre, ceramic material and aluminium, together with the company's ink supply systems, are available for all flexo printing and coating applications, including labels, paperboard, flexible packaging, and specialist situations featuring web widths above six metres.
Speaking for TRESU Ancillary, Henrik Kristensen, vice-president, TRESU Ancillary, said:
"It is a great asset to have the experienced team at Innova Flexo Products representing us. There is no substitute for local knowledge, language support, and understanding of market conditions. The appointment is important for those reasons, and it also strengthens our commitment to the Spanish and Portuguese markets."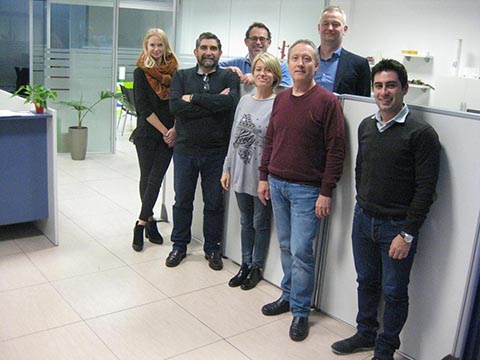 Left to right: Anastasia Potapova, Tony Garcia, Oriol Roses, Laura Dorta and Enric Garcia (all Innova Flexo products), Chris Wolters (TRESU Group) Antonio De Gracia (Innova Flexo Products).