St Albans – The Keyboard Group says its brand-new Zünd G3 3XL3200 digital cutting table will cut labour costs across several departments, thanks to its speed and versatility.
Based in Swanley, Kent, The Keyboard Group provides both stand manufacturing services to exhibition organisers and design agencies in the experiential marketplace, and display print – a one-stop shop that does everything in house.
Following the installation of a 3.2m-wide dye-sublimation printer for banner and textile printing, The Keyboard Group sought out a new cutting system with a bed large enough to accommodate the output. The digital cutter would also, ideally, be able to manage wood, metal and other stand materials, plus substrates for other applications.
After looking at other machines on the market, the business found that the Zünd G3 3XL3200 offered a bed size large enough to meet its needs, along with a heavy-duty industrial structure, innovative software, and myriad tool and module options. It was installed in March 2018 with the Zünd 3.6kw router (RM-L) and Automatic Router Changer (ARC).
Launched in 2017, the RM-L 3.6kW router module offers accurate routing at depths of up of to 50mm on a variety of materials, with surface compensation for precise routing and engraving on different material thicknesses. A pneumatic clamping system keeps cutters secure. Working with the RM-L is the Automatic Router Changer, a fully automated tool changing system that can accommodate eight bits for automated production, even when different bits are required for the same job.
Each Zünd cutting system has a modular configuration whereby users can choose their perfect combination of elements upon installation and, later, choose to swap out and upgrade them as their needs change. Already built as robust, 24-hour workhorses, this makes Zünd systems future-proofed investments for users in a vast number of industries. Grant Mahoney, Managing Director at The Keyboard Group, explains why this modularity is important for his business.
"Our team saw the Zünd G3 in the showroom in St Albans with all the different options, and chose them to suit," he says. "We had the G3 installed with a diamond-tipped bit for polishing acrylics, a V-cutting blade for thick cardboard and Re-board, an oscillating tool, the 3.6kw router and the Automatic Router Changer. We're a full production house, producing everything from a single small poster to a run of 100 banners, and the Zünd will be used across all departments.
"It's just been installed but I foresee it spending one or more full days routing wood, followed by a day cutting Foamex, followed by another two or three on fabric in any given week. I'm expecting it to halve labour costs; where we had two people working on fabric finishing, now we only need one."
Matthew Tillett, Sales Manager of Zünd UK Ltd, comments: "The Keyboard Group is a fantastic example of a business that offers a full range of services but only needs one incredibly versatile cutting machine working across every department – a Zünd."
Visitors to Sign and Digital UK (Birmingham, April 24th to 26th 2018) will be able to see a Zünd G3 fitted with the RM-L 3.6 kW router module – one of four Zünd digital cutting systems on display across the show. To book a meeting on Stand K30 or a visit to the Zünd UK Ltd HQ in St Albans, or for further information on Zünd cutting systems, please email [email protected] or call 01727 833003.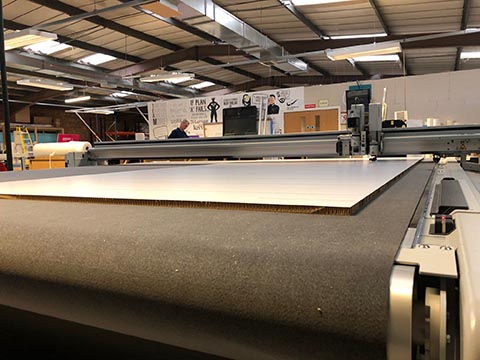 The new Zünd G3 will be used across all departments at The Keyboard Group.