Plans are announced today for the opening this July of a product innovation and design center in Watertown, Massachusetts focusing on industrial laser marking and printing products and employing nearly 40 people.
Markem-Imaje will open a 14,000-square foot (1,300 square meter) global innovation center in Watertown, Massachusetts in July. Approximately 40 engineers and support personnel will be hired to develop the next generation of laser marking and inkjet technology used to print information, such as barcodes and other key data, onto products and packaging. The $5 million investment marks the first phase of a wider expansion plan.
Watertown was chosen for its proximity to top engineering talent available through the many world-class universities and high-tech businesses found in the Boston area, while still being within close reach of similarly skilled engineers in the New York metropolitan area. It is also only a short distance from the company's US headquarters in Keene, New Hampshire.
Construction on the new facility will begin in April and should be complete by the end of July. It has been designed to facilitate creativity and cross-functional teamwork through five fully kitted labs and workshop rooms, an open-plan office philosophy and many state-of-the-art breakout areas for collaborative project working.
"Our customers need to print efficiently on a range of surfaces from the very food people eat to tiny pipes on mission-critical defense equipment. They rely on us to develop the safest, most efficient and reliable way of printing their information where it is needed," says Bart Verlinden, Vice President of Research & Development at Markem-Imaje. "Our Watertown investment will help us deliver cutting-edge innovations even faster and more effectively than before. It also demonstrates our continued commitment to exploring new technologies and creating innovative ways to deliver the best available product marking and traceability solutions to our customers."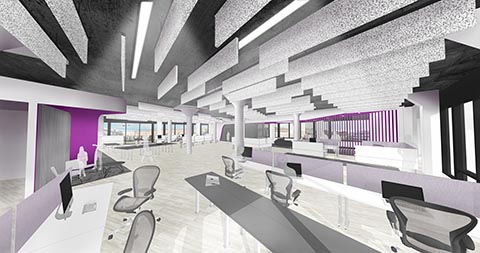 Markem-Imaje's computer-generated projected design of the office space.