Peter Kowalczuk, President of Canon Solutions America, speaks to University of Alabama MBA students on business development and leadership
Melville, N.Y. – Canon Solutions America, Inc., a wholly owned subsidiary of Canon U.S.A., Inc., today announced that its President, Peter Kowalczuk, recently spoke to MBA students in The University of Alabama Manderson Graduate School of Business on the importance of business development and what it takes to be a successful leader in today's ever-changing business landscape. The speaking engagement showcased Canon Solutions America's commitment to creating strong alliances with its customers that transcend the typical vendor-client relationship; instead focusing on how it can leverage its resources to create unique experiences that promote education and both personal and professional growth.
Esther Workman, a first-year MBA student who attended the talk, summed it up like this: "It was so exciting to hear Mr. Kowalczuk speak about leadership and corporate strategy, and I think we were all inspired by his tales of business in the real world. It's a privilege to be able to listen to an executive from a successful company tell us first-hand about his career, and I truly appreciate that he took the time to share his experiences with us."
Ranked 21st in public MBA programs by Forbes, the University of Alabama Manderson program, located within UA's Culverhouse College of Commerce, is built on academics, teamwork, professional development, internships, networking, and service opportunities. The MBA at Manderson is a carefully, strategically crafted two-year program of study that incorporates core and concentration coursework. The university's faculty and staff work with its students to ensure they are prepared to build a championship-caliber career.
"It was both a privilege and an honor to speak in front of such forward-thinking and dedicated students who exemplify what it means to be an MBA student in an elite program," said Kowalczuk. "With the help of engaged and highly esteemed professors, I have no doubt that each Manderson program student will continue to pave the way toward a successful and rewarding future."
Mr. Kowalczuk's visit comes close to a year after the two organizations collaborated on an event that included a landmark presentation from one of National Geographic's most recognized Explorers-in-Residence. This year's speaking engagement further cemented the dynamic relationship that exists between the two organizations and, according to Kowalczuk, is just the beginning.
"With like-minded executives pushing our companies forward, we are poised to expand this great public-private partnership and discover ways to enrich the student experience and go beyond the traditional business to business interaction," affirmed Kowalczuk. "Pushing education is at the core of Canon Solutions America's foundation, and we'll continue to support our customers who, like us, want to help prepare the next generation of business leaders for what it takes to truly succeed."
The University of Alabama is one of Canon Solutions America's preeminent customers, boasting a robust Canon print fleet and an eye toward expanding the capabilities of their print room.
"We thank Mr. Kowalczuk for his presentation and the one-on-one time he spent with the students," said Zach Thomas, Director of Marketing and Communications for UA's Culverhouse College of Commerce. "We are eager to build on this success and work with Canon Solutions America on similar cooperative efforts in the future."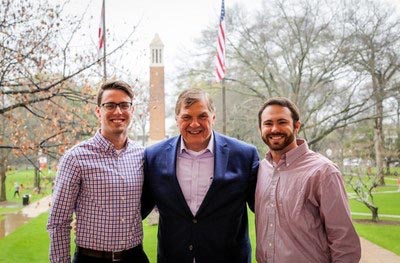 University of Alabama MBA students Kyle Spencer (L) and Slade Johnson (R) join Pete Kowalczuk, president of Canon Solutions America, following Kowalczuk's speaking engagement that highlighted what it takes to be a successful executive in today's challenging business environment.