Laval, Quebec, Canada – The Lowe-Martin Group recently installed the Standard/Horizon RD-4055 DMC Rotary Die Cutter at its production facility in Mississauga, Ontario.
Headquartered in Ottawa with production facilities in Mississauga, Ontario, Lowe-Martin provides integrated printing and communication solutions that span an extensive range of products and services including complete offset, digital large-format and security printing; direct mail; marketing; bindery services and much more.
The RD-4055 DMC Rotary Die Cutter is a recent and innovative addition to the Standard/Horizon portfolio of finishing solutions and is available in Canada through KBR Graphics. It's designed to meet the growing demand for short-run, die-cut products and runs at speeds up to 6,000 cycles per hour. The RD-4055 DMC is a reliable and precision system that can die-cut, crease, perforate, slit, hole-punch and round corner in one process, both digital and offset-printed sheets up to 0.5 mm. Its repeat-register function enables the running of multiple-up imposed applications with a smaller die to reduce costs (up to 5 repeats in a single pass).
Since operators can also run male and female dies simultaneously, finished products come out clean, with sharp creases without cracking or slitting. The system permitted the Lowe-Martin group to add creativity and flexibility to its already impressive range of products and services. The RD-4055 DMC can effectively produce and is especially ideal for shaped promotional items, business cards, greeting cards, playing cards, coasters, door hangers, coupons, tickets, packaging, stickers (pressure-sensitive, gum back, static), merchandise labels, pocket folders, and unique mailers.
Lowe-Martin's focus on superior service, extraordinary performance and sustainable growth has earned recognition as one of North America's premier print providers. "Lowe Martin is now far more efficient, and turnaround times are much faster," said Karl Belafi Jr., Vice President of KBR Graphics. "In fact, they've doubled capacity with this innovative and cost-effective method. The flexible cutters are more accurate and jobs can be initiated from a PDF file, making the set-up times faster with less material wastage. This is always an important factor when considering digital printing," he added.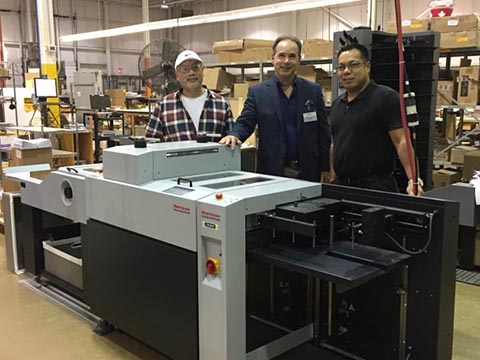 Left to right: behind their new Horizon RD-4055DMC Rotary Die Cutter from KBR Graphics, Quentin Chan (Lead Hand, Lowe-Martin), Steve Klaric (Account Manager, KBR Graphics) and Rob Castro (Bindery Manager, Lowe-Martin).