Lyndhurst, N.J. – Hop Industries, manufacturer of the durable Hop-Syn synthetic paper today announces that its popular XT grade will be demonstrated live at swissQprint's booth #5642 at ISA Sign Expo, taking place March 22-24 in Orlando, FL. At the Expo, swissQprint will feature its Colours print designs, which showcase the high quality results achievable with Hop-Syn and its Nyala LED printer. Hop-Syn synthetic paper is a durable and environmentally-friendly substrate used by big brands for point of purchase displays, hang tags, book covers, menus, posters, outdoor signs, and more. The UV inkjet print manufacturer featured Hop-Syn XT with its Nyala LED printer at SGIA Expo 2017.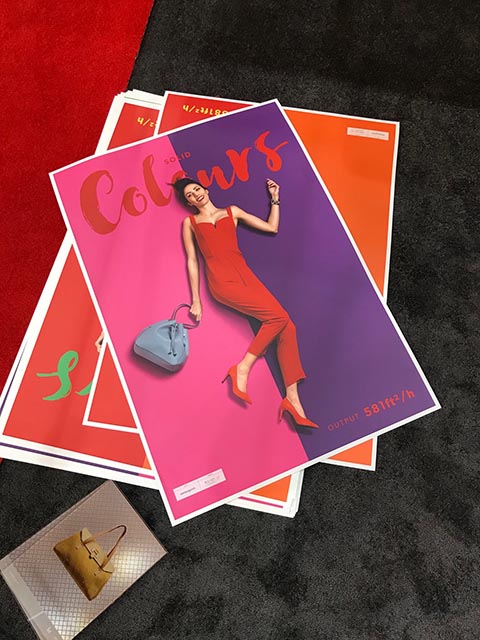 "The bold design of swissQprint's Colours print samples is ideal for the Hop-Syn XT grade," comments Jack Smith, Senior Vice President, Hop Industries. "Vibrant colors pop with Hop-Syn synthetic paper. The durable substrate is a popular choice for brands because it consistently delivers high-quality output for every type of print display, and its 100% recyclability meets their sustainability mandates."
In-House Converting for Custom Sizes
At the Expo, swissQprint is printing on Hop-Syn XT .010 gauge, custom sized at 27½ x 39? by Hop Industries' in-house converting services. Hop offers roll slitting, sheeting, rewinding and trimming from its NJ warehouse.
Hop-Syn XT is an extra tear resistant synthetic paper made from a unique mixture of calcium carbonate and polypropylene resin. The environmentally-friendly substrate is 100% recyclable, and exceeds compliance requirements with the Restriction of Hazardous Substances (RoHS) directive for harsh chemical content. Hop-Syn XT is manufactured with UV inhibitors and whitening agents that deliver sheet brightness and opacity up to 94%. Its extra tear strength and weather resistant properties meet the most demanding environmental conditions.
Free samples of the Hop-Syn and swissQprint output will be available at booth #5642 at the Expo. Interested parties can also request free samples of Hop-Syn to print in-house. For questions or more information visit www.hopsyn.com or call 800-524-0757.