Ontario, Calif., specialist adds speed, throughput, and quality
Serves the retail, food, cosmetic, and medical packaging markets
New 41-inch six-color fully automated sheetfed press added to pressroom
First Koenig & Bauer press installation
With only a few weeks into the new year, Preferred Printing and Packaging is busy installing the newest member of its pressroom: a new fully automated Koenig & Bauer Rapida 105 41-inch six-color sheetfed press plus coater. The new multi-million dollar press is a welcome addition to this busy southern California packaging specialist in which it will provide faster throughput, higher quality, and more efficiency for its retail, food, cosmetic, and medical packaging clients.
"For more than 25 years we've worked alongside the world's most amazing brands, pushing the limits of what's possible in design and packaging, and always exceeding what is expected," says Robert Zens, president. "But now our customers are becoming even more demanding. We felt that our new Koenig & Bauer Rapida press will give us the ability to meet their needs. In addition, it will support our initiatives and production and provide a clear boost to our quality and throughput."
Zens explains that for the first time in his firm's history, he wanted to invest in a brand new press with the latest technology. "The Rapida 105 was the logical choice. We have developed a very high confidence level with KBA North America over the years and have watched it launch extremely impressive press models and features. Its new technology will allow us to be more competitive in the marketplace providing our customers with high-end packaging. We felt this was the perfect time to invest in new machinery," says Zens.
In its 50,000 sq ft facility on a busy thoroughfare east of Los Angeles in the city of Ontario, Preferred Printing and Packaging is facing numerous challenges including increased complexity of its customers' packaging designs and structure. The print format and production output of the new Koenig & Bauer Rapida 105 will be the backbone in producing beautiful product and packaging designs that engage customers. The firm's team of talented printing and structural experts partner with its well-known clients to produce packaging that nearly jumps off the shelf at consumers.
"Our team relentlessly focuses on customer satisfaction each and every day," says Zens. "We've built a reputation for creating beautiful, impactful, eye-catching packaging design that is engineered to draw the consumer's attention. In many cases we are called on to develop a scalable brand design that will carry across an entire line of products. We're excited to have our new Rapida 105 up and running to contribute to these efforts."
Founded in 1991 and located in Ontario, California, Preferred Printing and Packaging is a full-service packaging manufacturer. The firm specializes in food packaging design and branding of consumer goods for beauty, health, fitness, and technology. Its 50,000 square foot folding carton packaging plant uses a turn-key production process, housed in a fully integrated production plant. Its technical sales staff provides expertise ranging from prototyping to concept and structural design to testing and manufacturing best practices. Its customer service staff is recognized for stellar service seen by few companies in the age of technology.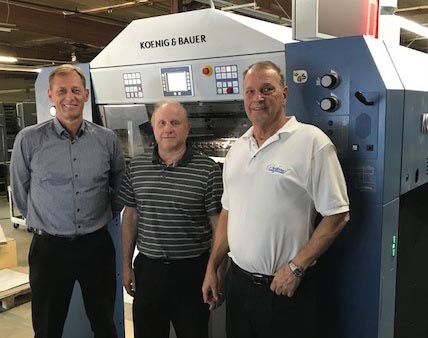 Left to right: Marcus Schoen, Koenig & Bauer sales manager, congratulates Don Ledbetter, Preferred's plant manager; and Bob Zens, Preferred's president; on the firm's new Koenig & Bauer Rapida 105 41-inch six-color sheetfed press plus coater.