Packaging solutions provider will realize significant savings and demonstrate its eco-friendly policies
Solidifying its commitment to sustainability and green technologies, J.L. Clark has purchased a new EcoTNV incinerator system from KBA-MetalPrint. The new incinerator is scheduled to be installed in the third quarter of this year. The new system will be supplied as a compact, pre-insulated unit with a combustion chamber and heat exchanger to pre-heat the exhaust in one unit. The new EcoTNV will offer substantial savings on gas consumption, compared to the existing unit it will replace.
J.L. Clark is committed to creating Green Packaging – with a company-wide dedication to supporting innovative, eco-friendly processes and business systems that promote social, economic and environmental well-being. Its plants and processes have undergone a 'green' transformation that has made them among the most energy efficient, with the least environmental impact, of any in its industry. J.L. Clark's environmental initiatives have been recognized with awards on both local and national levels.
Commenting on the order, Sam Pernice Director of Sales & Service for KBA-MetalPrint in the USA said: "With this purchase, J.L. Clark continues to demonstrate their commitment to responsible use of our natural resources. Without question, the new EcoTNV will offer them significant savings in gas consumption, making it a very smart addition to their existing line. Indeed, we are proud to once again partner with a good corporate citizen like J.L. Clark."
J.L. Clark is an industry-leading supplier of high quality metal lithography and custom metal, plastic and combination packaging. In 2017 it marked the firm's 113th anniversary. The organization provides packaging solutions to the confection, food and spice, health and beauty, promotional and smokeless tobacco industries.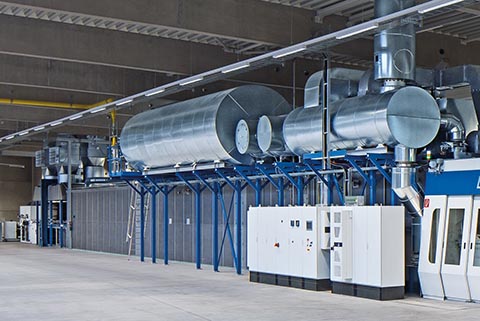 The new EcoTNV offers substantial savings on gas consumption.