High-end packaging machines and technology solutions have ensured BOBST's reputation as a formidable innovator during the past 125 years and are no doubt the most tangible expression of the success that comes from continuously building on previous achievements. Other benefits, albeit well-known by customers and industry partners alike, have less opportunity to come to the fore for the wider public unless participation in a major exhibition, like Labelexpo 2017, provides the opportunity to display and explain them.
A Solution Corner on the BOBST stand at Labelexpo this year is dedicated to illustrating, through the functionality and quality of a variety of different application samples, how strong the company's focus is on offering web-fed equipment, which is not only efficient, but also, through a unique knowledge of the evolving world of packaging and labels, is ready to enable its users to be a step ahead in entering new markets through product diversification.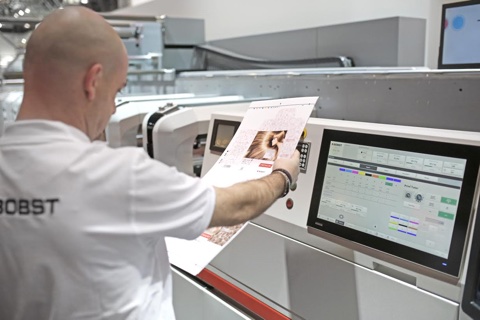 To win the battle faced by the converting industry today, it is necessary to have the ability to cope with a number of challenges, namely new generations of substrates, inks, varnishes and adhesives, changing market requirements and trends and successfully unlocking the new value potential of the technology behind Industry 4.0. This can be best achieved through industry collaboration across suppliers of equipment, systems and consumables, as well as converters, incorporating raw materials through to pre-press, impression, finishing, quality control and workflow right through to the final product.
BOBST has been a forerunner in initiating and fostering these collaborations along the supply chain. The REVO Digital Flexo project is an example that has made the greatest impact by breaking technology limitations and successfully driving flexo toward the digital world of printing.
Daragh Whelan is leading a team of BOBST Solution Masters on stand who will be in the Solution Corner. His experience is truly multi-faceted and valuable, having been part of the REVO Technology Team since the very start; initially as technical director of the converting company where the project was first implemented and now as REVO Product Manager at Bobst Firenze.
"Aside from REVO's extraordinary achievements, in terms of process productivity, print and color consistency and repeatability, what I find unique is the level of process and technological support that partners provide and that converters can find in the REVO Academy, which is housed in the Competence Center of Bobst Firenze, in Italy. We are the only manufacturers in the world to have an internal pre-press department that is totally dedicated to clients' results and solution proposals." explains Daragh
"At the Academy, we can guide clients coming from different segments of the label, flexible and carton packaging markets through the whole process, from their file to the end product, as well as advise them about the best products to choose based on their requirements and goals. We can also calculate their ROI and TCO using our customer data to compare and increase their efficiency levels. As for BOBST, this also means we can continue to improve and simplify the process."
Simone Topazzini, Project Manager and Competence Center Coordinator, Bobst Firenze, explains the role of each REVO partner's technology in the process: "As the REVO Academy is equipped with the latest prepress and plate making equipment from Esko and DuPont, our clients can send their current files, convert them to 7-color ECG and have plates produced on site. Plates are mounted and verified automatically using our DigiMountTM flexo plate mounter. On press, most tasks are performed automatically using Digital Flexo. Low-migration inks from Flint Group also allow customers to use samples for migration testing and with GTT anilox rollers from Apex International, we can guarantee no spitting and clean printing throughout the print run.
"On press, AVT 100% inspection equipment, with an inline spectrophotometer, reads and reports real-time data into the Color Cert program from X-Rite, so clients can instantly see the data relating to Delta E, dot gain and trapping. Many clients find this extraordinary as it takes less than 2 hours from file to printing!" adds Topazzini.
The Labelexpo stand area dedicated to BOBST benchmark services highlights the Group's commitment to continuously enhancing its capabilities. Alongside a very comprehensive range of products and assistance programs aimed at ensuring that productivity can be kept at optimum levels on installed equipment, BOBST is also bringing customers into a world of advanced connectivity.
In an area of the stand dedicated to BOBST Services, exciting displays demonstrate new innovative, connected services that provide customers with instant expert advice and provide a full overview of machine operations using augmented reality.
Apps are also on show, which are of great support to converters in today's business environment, which help customers remotely monitor their production or downtime real-time across all machines on the shop floor.. Production data can then be accessed and analyzed at any time, and from anywhere, using a mobile device such as a mobile phone, tablet or computer.
From a visit to the BOBST exhibition stand, or to one of BOBST nine Competence Centers world-wide dedicated to the advancement of process technology, from equipment testing and demonstration or to industry collaboration projects, one cannot fail to understand the experience, know-how and capabilities that are unique to BOBST in the industry. Extending from its core technology to encompassing a successful partnership approach with clients, BOBST enables converters worldwide to fully realize their potential.