Royal Oak, MI – ArborOakland Group of Royal Oak, Michigan is excited to announce the completion of a new Letterpress Studio inside the company's recently renovated Specialty Print Center. The Studio features functional printing presses from the 1950's, 60's and a printing press, made in Cleveland, OH in 1901.
ArborOakland Group acquired Utley Brothers Printing earlier this year. As a part of the acquisition, Don Kirkland, president of ArborOakland Group, worked with Andy Harrison, then president of Utley Brothers Printing to include his family's letterpress history and capability as a part of the acquisition. Harrison said, "As a company we were attracted to ArborOakland's appreciation for the quality and craft of letterpress and all we developed in our own studio. The fact that he wanted to invest in and grow it was important and meant a lot that the family legacy and history was going to live on and even grow in the new space."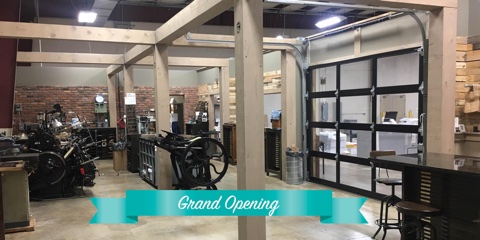 The company's love of letterpress dates back to the early days, when it was a common method of printing. As years passed and new presses and processes found their way in the world, letterpress declined and nearly disappeared. Today, the very thing that nearly drove letterpress printing to extinction is what has brought it back — the hands' on, custom, classic nature, craved by those looking to make a statement and impression which is found in the old form of printing.
"Investing in a space where the craft lives on was an important commitment to the heritage of printing, even as we invest in the latest digital printing technologies," said Kirkland. "We wanted to make a strategic yet bold statement that ArborOakand Group is willing to offer its clients the widest range of printing capabilities available. We felt that including what Utley Brothers had developed with the letterpress studio, and locating it across the aisle from the latest in digital printing, would demonstrate that visually. We're confident we have one of the most unique printing spaces in Michigan."
"In a day and age of instant digital marketing and social platforms such as Twitter, Instagram and Facebook, it seems counter-intuitive to dedicate space to doing things the old-fashion way but the growth of the "Makers" movement and desire for quality products made locally and by hand, are all part of the history, beauty and attraction of letterpress," Harrison said.
The company is proud to open the doors to the Studio for a Grand Opening on Thursday, September 21, 2017 from 2 – 6 pm. Those interested can RSVP online at Fall17Letterpress.EventBrite.com
ArborOakland Group, one of Southeast Michigan's leading printing companies since 1967, is proud to call the Motor City its home and with wide-ranging print capability, help the world Speak Visually!
Contact:
ArborOakland Group
4303 Normandy Court, Royal Oak, MI 48073
Andy Harrison | [email protected] | 248-549-0150