San Giorgio Monferrato - SCEA is one of the success stories in the Italian flexible packaging production industry. Established in 1977 in the Veneto region of North-East Italy, the company soon began a rapid expansion recording annual double-digit growth from the year 2000. This meant SCEA needed to relocate to a larger production facility in Zevio, near Verona, in 2008 in order to accommodate the increasing number of production lines required to match its continuously expanding capacity requirements in gravure and flexo printing, lamination, slitting-rewinding and thermoforming. SCEA's production serves primarily the food packaging, label and disposable plates and trays market sectors, supplying very large customer bases, in both domestic and export markets averaging 3000 tons of goods per year.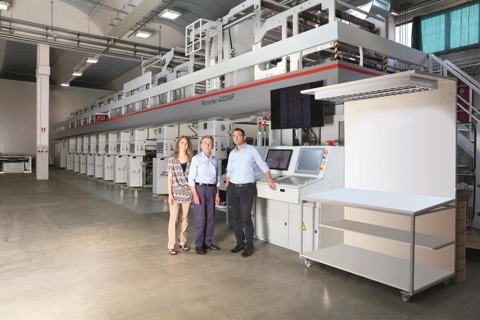 To upgrade the performance of the gravure department and gain the cost savings and productivity benefits of today's latest technology and equipment, SCEA conducted a diligent consideration of all gravure printing options and at the end of 2016 installed a 10-colour BOBST RS 4003MP gravure printing line. Configured for shaftless cylinders, the press accommodates a web width up to 1350 mm and to ensure versatility, it delivers rapid changeover ability and can process a wide range of packaging films at high production speed. Six months into production, BOBST gravure technology is proving a perfect fit to SCEA's requirements for print quality, production efficiency and flexibility.
"We pride ourselves on our ability to deliver outstanding performance, high quality production and trusted customer service to our clients," explained Mauro Pattaro, owner of SCEA, "We have the capacity to provide a very wide range of capabilities across a broad spectrum of materials and application demands in gravure printing. We are satisfied that the RS 4003 MP perfectly fits our customers' requirements in terms of responsiveness, short lead times, flexibility and full dedication to quality. The machine's register performance is excellent in providing consistency throughout long run production, as well as fast register correction at speed variations, keeping waste to minimal levels. We also appreciate the high production flexibility that derives from the fast job changeover times required for short runs."
Both SCEA and BOBST look forward to a long lasting cooperation. "With every investment in new equipment we must make sure that it will be able to support our profitability and production goals, as we are always looking ahead to new possibilities to provide innovative and eco-friendly packaging solutions for our clients. This is a new collaboration and we are confident that the high performance delivered by our new BOBST machine and the BOBST service team will pave the way to further grow our ability to achieve our objectives," concluded Mr Pattaro.