New KBA Large-Format Underlines Pro-Environmental Stance Held By Everett Graphics
Business strategy consistently geared towards pro-environmental printing
Expands their capabilities into large format printing
New press addresses needs for additional customer applications
To be successful in today's competitive and ever-changing market, no matter what industry you serve, a business needs to have its pulse on upcoming government regulations, be ever mindful of changing trends, and take a positive and proactive approach. That's been the stance of leading northern California folding carton manufacturer Everett Graphics.
As California leads the nation in adopting additional pro-environmental policies, businesses like Everett are showing their resourcefulness in catering to these new needs. But Everett goes quite a few steps further. While many print shops offer eco-friendly printing, Everett has consistently geared its business strategy towards pro-environmental printing through its choice of substrates, its production technology, and its social responsibility towards its customers and its region.
Throughout its nearly 40 years in business, Everett has chosen its equipment very carefully to align with its business philosophy. During the past decade, KBA has become a partner with Everett supplying it with new sheetfed offset technology. Thus it was no great surprise when the firm ordered another enhanced-performance highly-automated KBA Rapida 145 57-inch press---its first large format---to augment its KBA Rapida 106 41-inch press at its Oakland facility. This premier designer and manufacturer of quality packaging primarily catering to the food industry is currently installing its new Rapida 145.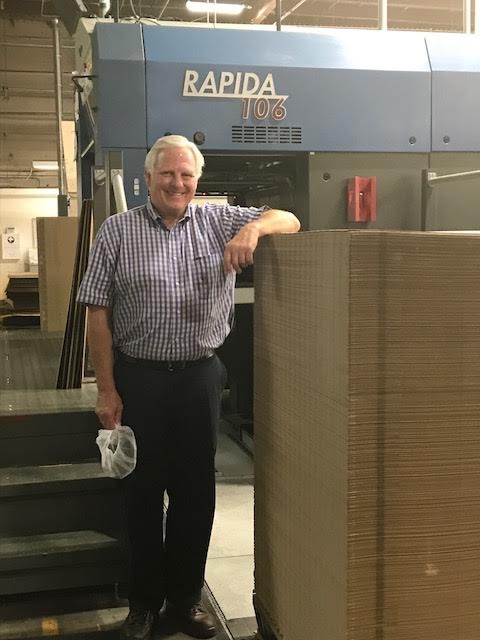 "Being a California-based company that is one of, if not the most environmental progressive state in the country, we are shaped a lot by our state's environmental outlook and planning," says Whit Everett, president and CEO. "To remain competitive and successful we are trying to stay one step ahead of the markets and our customer's needs. We are aggressively innovating ways to replace Styrofoam and plastics in packaging, which is being driven by local legislation. With the upcoming restrictions being placed on the use of plastics and Styrofoam by the state of California and by the desires of our customers, we are moving more aggressively into the produce, poultry and meat markets, as we create innovative recyclable, compostable alternatives for these products."
That's where the new KBA press plays its important role at Everett. "With this new KBA press, we will be able to run e and f-fluted materials at higher speeds than ever," says Everett. "It will differentiate us from our competitors because we now have the ability print high quality, offset work, directly onto micro-flute substrates in large format. Other companies have to print a top sheet then laminate it to single face. We save an entire process, which enables us to be more efficient and faster."
Headquartered in a quiet tree-lined industrial area not far from the San Leandro Bay, Everett is situated in a modern two-story gleaming white facility with 82,000 sq ft of manufacturing space. To accommodate its move into large format from 41-inch to 57-inch presses, the firm also invested in several other areas.
When Everett decided to purchase a large-format press, it examined both KBA and another press manufacturer. Both firms, says Everett, boasted that their presses had the capabilities of printing directly onto micro-flute substrates. What tipped the order toward KBA was its solid five year partnership between the two firms plus its customer service and KBA's dedication to innovation and problem solving.
"In 2012 I was looking for a press that could handle extra-heavy, rigid substrates as well as corrugated," says Everett. "It led to purchasing our first, direct print-on-micro-flute KBA Rapida 106 press, which changed the way we served our customers and our markets. This ambitious new investment brought to fruition the ability to operate a one-of-a-kind, state-of-the-art litho printing press and enabled us to lead the way in the highly efficient production of 100% recyclable packaging solutions. Partnering with KBA on this one-of a kind press made a huge positive impact on our business."
Today, Everett Graphics counts its food related business market as its fastest growing, it is approximately 73% of the firm's business. Additional industries being served are health and beauty (12%) and pharmaceutical/medical (8%). The firm, ever ambitious, is seeking out new markets, such as produce, poultry, seafood, meats, and recreational cannabis.
Founded in 1980, Everett is a leading producer of innovative, folding-carton packaging solutions, designed and manufactured in Northern California. Everett produces environmentally friendly packaging in partnership with startups and Fortune 500 companies around the globe. From structural design to manufacturing, shipping, and logistics, Everett has the tools it takes to create award-winning customized packaging solutions.