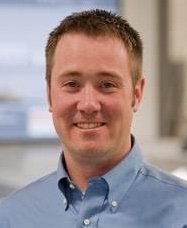 Augusta, Maine - J.S. McCarthy Printers, headquartered in Augusta Maine, and the Tardiff family are proud to announce that effective August 21, 2017, Jonathan "Jon" Tardiff has been appointed President of J.S. McCarthy Company. It has been a long journey and we are very proud of Jon and all that he has accomplished. We are confident that he will bring the same dedication to this new role as he has to everything else he accomplished at the company.
For the past twenty-five years, Jon has worked in the family business in various positions. He has learned about teamwork, motivating people, keeping an eye on the bottom line, staying on the cutting edge and always looking to improve, but most of all, he learned never to be afraid of rolling his sleeves up and getting the job done. Jon is a 2004 graduate of Babson College and holds a degree in Business Administration.
Former President, Rick Tardiff, states, "After forty-five years in the industry, I have decided that it is time for Jon and his three siblings to take over the operations of J.S. McCarthy. Each of our children is uniquely qualified to perform their respective roles within the organization and I couldn't be more proud of all of them."
About J.S. McCarthy Printers
J.S. McCarthy Printers is recognized as an award winning and leading print provider in the United States, employing over 230 of the most talented craftspeople in our industry. The company operates from its 130,000 square foot facility in Augusta, Maine with offices in Portland, ME; Canton, MA; Newington, CT and Stamford, CT.