Camera Sensor Sheet Registration Provides Accuracy & Efficiency

CHICAGO, Ill. - Harris & Bruno International announces they will debut their sought-after ExcelCoat ZRS30 spot coater at PRINT 17 Sept. 10-14.

An inline/offline spot coater for UV and AQ, the ZRS30 utilizes a sophisticated camera registration system to compensate for digital drift. The quick change sleeve system allows for swapping out coating plates/blankets in seconds. High throughput and increased efficiency make it the perfect fit for packaging and commercial print applications.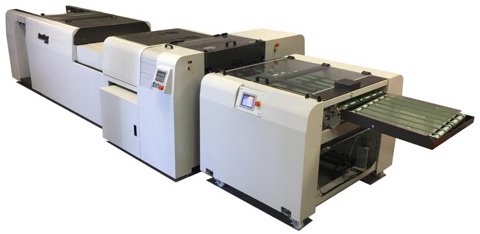 "Designed to meet the standards of the most demanding of customers, our spot coater helps solidify H&B's position as a market leader for digital print finishing," said Harris & Bruno Regional Manager Sean Tobler.

Visit Harris & Bruno at booth #648 for live ExcelCoat ZRS30 demonstrations, to pick up samples, and to learn more. Also at the H&B booth will be the coating module of our 30" duplex web coater. This machine can be configured for simplex, duplex, flood, spot, AQ & UV and is available in 22 ½", 30" and 42" widths.