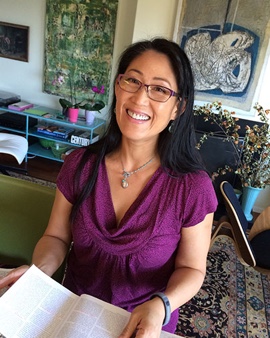 SAN LUIS OBISPO — The Graphic Communication Institute at Cal Poly (GrCI) named Lyndee Sing as its new director, effective Nov. 1. Sing will provide leadership and strategic direction for the institute, as well as oversight and implementation of all GrCI program activities.
The GrCI is an extension of the university's Graphic Communication Department. The institute was created to provide industry professionals with access to Cal Poly's cutting-edge resources via workshops, conferences and seminars, custom training programs, consulting, laboratory testing, and research initiatives.
"Lyndee is valued for her experience and dedication to both the Graphic Communication Department and the industry," said Ken Macro, Graphic Communication Department chair. "We are confident that she will lead the institute in the best interests of both entities."
Sing succeeds Professor Emeritus Harvey Levenson, former Graphic Communication Department chair, in the position. Levenson retired from the university at the end of October.
"Strong leadership is in place with the appointment of Ken Macro as department chair in 2013 and now with Sing as director of the institute," Levenson said. "Lyndee knows the industry's needs and the issues that can be addressed by the GrCI. She is well prepared to lead the institute."
An industry professional and Cal Poly graphic communication graduate, Sing was the program manager of the GrCI from 2005 to 2014. "I am pleased to be supported by my colleagues to move into the role of GrCI director," Sing said. "Harvey has had such great success with developing industry partnerships through the GrCI. I am excited to continue building on his legacy while looking at new challenges and opportunities in our ever-changing field."