Technology adoption marks the first KODAK FLEXCEL NX Wide C System installation on the West Coast
ROCHESTER, N.Y. - Kodak has expanded its reach in the flexographic market with the first KODAK FLEXCEL NX Wide C System installation on the West Coast at Master Arts Graphics, Inc., a trade shop that serves narrow web label printers and wide web packaging customers with a broad variety of print applications. This installation will enable Master Arts to deliver wider format compatibility for their wide web press, providing customers with enhanced flexibility and versatility.
"We take pride in providing our customers with the latest technological advancements, which play a key role in helping them achieve long-term success in an increasingly challenging market," said Tom Chalayan, President, Master Arts. "By installing the KODAK FLEXCEL NX Wide C System, we can provide customers with better ink transfer capabilities and higher quality printing that was unattainable till now. We believe that technology innovation is essential for the future of the print industry. The KODAK FLECEL NX Wide C System embodies this kind of innovation and enables us to be a leading edge provider of web printing and packaging services."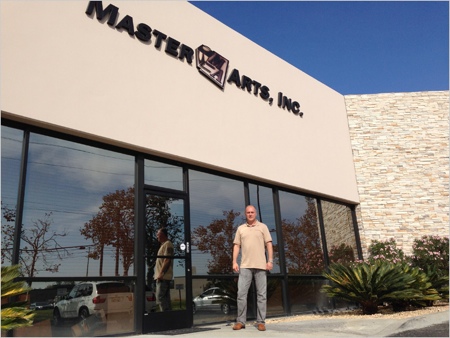 "The future of flexography will be based on technology that drives efficiency and versatility," said Dr. John Anderson, Kodak's Director of Packaging Sales and Marketing, U.S. & Canada. "We are committed to deliver solutions that will allow our customers to differentiate themselves and stay ahead of the curve as we meet our customer's needs. We are excited for this new chapter with Master Arts; our expansion to the West Coast with our newest FLEXCEL System technology is evidence of the success we've had by bringing the latest flexography innovations to market."
With a maximum plate size of 42 x 60 inches, the FLEXCEL NX Wide C System accommodates large layouts and facilitates efficient job planning. Initially introduced earlier this year, the FLEXCEL NX Wide C System produces KODAK FLEXCEL NX Plates that enable print production efficiencies and outstanding print quality. In addition to the KODAK FLEXCEL NX Thermal Imaging Layer, the device offers full compatibility for KODAK DITR Film imaging and an opportunity to add a Hybrid Option for digital offset plate imaging.
Master Arts has been a Kodak customer for three years, initially working with the FLEXCEL NX Mid System. Designed to serve high-end process printing markets for flexographic printing, Master Arts first looked to upgrade its wide-format flexo technology when backup concerns arose. The company was looking for a system that was consistent, reliable and provided wide web packaging customers with the same high-quality plate capabilities that came standard with the KODAK FLEXCEL NX Mid System. Since implementing KODAK Technology, Master Arts has been able to surpass the competition in terms of quality, size selection and speed.
Chalayan emphasizes, "Our growth is coming from a whole different direction and we're closing new business opportunities at a much faster rate. Kodak has eliminated some of the challenges that come along with a trade shop. When we don't hear back from a customer once we have delivered the plates, it's a good thing. It means everything is going smoothly and they are happy with the product. Thanks to KODAK Plates, we've seen a significant increase in customer satisfaction which has made us more successful and our lives a lot easier."