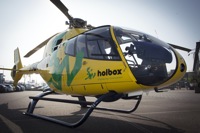 A yellow helicopter with a green frog on its tail flies across a clear blue sky before landing at packaging producer Holbox in Echt, a city in the south of the Netherlands. Dutch astronaut André Kuipers and aviation idol Martin Schröder both climb out. They are the guests of honour at Holbox to officially inaugurate the first KBA Rapida 164 with double coater in Europe, some nine months after this large press series was launched.
Holbox founder and CEO Jan Hol, his wife and children Martijn, Chantal and Anouk welcomed more than nine hundred visitors to an unforgettable ceremony celebrating his new four-colour KBA Rapida 164 with two coaters on a beautiful spring day in mid-March. The new press with a maximum paper format of 1,205 x 1,640mm (47.4in x 64.5in) has all feasible automation options on-board and achieves a top speed of 13,000sph.
Located in the province of Limburg in the Netherlands, Holbox has printed packaging and point of sale displays (POS) in particular for more than 30 years. The company offers a total package in the area of point-of-sale material with the cutting-edge technology based on the latest insights. This includes everything from the design and initial sketch up to and including the production of displays, packaging and delivery to the shop floor. Jan Hol: "We do this while taking our responsibility for the environment seriously and ensuring the best delivery reliability".
Holbox has production sites in the Netherlands and Poland. Holbox's sales offices can be found in the Netherlands, Germany, Poland and France. Approximately 350 people work at the company and 65% of production is exported.
KBA and Wifac engineers started assembling the press in January. Holbox's printers then went through an intensive training process. It is the second KBA press that the firm has purchased. The first, a five-colour Rapida 162 with one coater, has been in operation without any major issues for nine years.
Times are changing
Why did Holbox opt for the Rapida 164? Technical director Martijn Hol: "Demands which have grown over time, fast job changes, the quality of KBA's large-format presses which is well known on the market and the high standard of service given to us by Dutch sales agency Wifac all made us choose this press. Our customers set the highest requirements when it comes to gloss and colour intensity. We often feed in the sheets through the Rapida 162 with only one coater twice: once with dispersion and then again with UV coating. With this new investment, we only have to run the sheets through the press one time which leads to a huge leap in productivity. On top of this the new press features real-time inline colour control ensuring a consistently high print quality, while saving time and waste."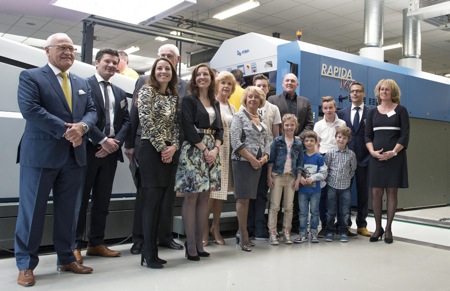 Holbox CEO and founder Jan Hol (l) with his family and guests of honour in front of the new KBA Rapida 164
On average Holbox processes around thirty orders a day. Most orders consist of a multitude of different sheets. The maximum turnaround time of an order for a display is 14 days, but in practice this is much shorter.
"If we want to meet our delivery times, fast job changes are of vital importance. With the new Rapida 164 we can start a new print run after approximately six minutes as most processes are automated when changing jobs and are often done simultaneously. It is also important to us that start-up waste is kept to a minimum seeing as we print with relatively expensive substrates. Our new press has led to savings in waste of 10%, compared to the older generation of presses. This reduction in costs can be passed on to our customers without it affecting our performance," says Martijn Hol.
Innovative in many fields
Holbox can hold its own perfectly in the international display market and its turnover shows growth percentages in double figures year-on-year. Founder and CEO Jan Hol: "We are strengthening our leading position in this market segment with this investment. We can thank having this position to the fact that we continuously aim for and deliver top quality at the right price. The whole organisation permeates the fact that the relationship that we have with our customers is our top priority asset. Should a complaint ever occur, we do not simply discuss the issues, we solve the problem. A second pillar that supports the foundations of this company is permanent innovation. We developed a special paper type, Fusion, in partnership with our paper supplier that ensures that we can combine maximum ink coverage with problem-free lamination. Thirdly, our designers are always coming up with smart solutions that make sure that the displays have the desired impact, are easy to transport and can be quickly assembled. Our aim is to add 4 patents to our name a year, usually we manage this!"
Reliable partner
Along with the investment in the first Rapida 162 and the new Rapida 164, last year Holbox also ordered a new CTP imaging unit replacing an old version from Wifac. "We become attached to our customers and our suppliers. You must be able to trust reliable partners such as KBA and Wifac in these times. We know what we have in each other. When we had to make the decision, we did not have any doubts at all with regard to this investment," says Jan Hol.
Always nearby
Martijn Hol: "We are running at the top of our production capacity, but at the same time we want to meet our delivery dates and never say no. With the new press we can again go back to two production shifts instead of three. The company and its staff can relax once again and we can offer maximum flexibility. We can always reinstate a night or weekend shift, in the case of an emergency. This means that we must get everything out of the press that we can during our production hours. It is, therefore, good to know that KBA's engineers can see the press directly via remote maintenance and can provide advice about a quick solution should a fault occur. Wifac is also always nearby with its in-depth know-how of both printing presses and the full production process."