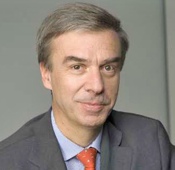 The supervisory board of Koenig & Bauer (KBA) elected Heinz-Joachim Neubürger (60) as its new chairman at today's extraordinary board meeting. This follows the resignation of Dieter Rampl on 26 September as both longstanding member and since 2006 chairman of the world's second-largest press manufacturer's supervisory board due to personal reasons.
Heinz-Joachim Neubürger, former CFO at Siemens, was elected as member of the KBA supervisory board at the annual general meeting in June 2013.
The shareholder representatives shall propose Dr Martin Hoyos (65) from Vienna to the register court in Würzburg, Germany, as a replacement following Dieter Rampl's resignation as supervisory board member. Mr Hoyos, an experienced auditor, is a former member of the board of directors at KPMG Germany and holds diverse supervisory board seats at medium-sized companies.