MELVILLE, N.Y. – Aiming to accelerate the printing industry's transition from offset to high-volume digital output, Canon U.S.A., Inc., a leader in digital imaging solutions, today announced "Niagara" (development name), a high-volume sheetfed color inkjet digital press1. Previewing at PRINT 13 in Chicago next week, this new digital press will help consolidate sheetfed black-and-white and color workflows on to one production printing system.
Canon was an early pioneer of inkjet technology, accumulating broad and deep expertise in inkjet heads, paper and ink technologies. The Company's continuous feed color inkjet systems, which command a leading 41 percent market share in the United States and Western Europe combined2, are known for their robust design and consistent, high-quality output. Coming to market with a high-volume, sheetfed inkjet digital press is a natural extension of this industry leadership.
Featuring a patented four-color ink system (with a planned future extension of up to six stations), Niagara-based systems will provide B3 sheetfed color inkjet printing on standard coated and uncoated offset media at anticipated production speeds of up to 3,800 duplexed B3 sheets per hour and up to 8,500 duplexed letter sheets per hour, with volumes of up to 10 million letter size images per month. The Niagara digital press will also offer integrated end-to-end digital workflow built atop the Océ PRISMA software platform, along with robust feeding, output and online finishing capabilities, managed by full process quality controls.
"Offset run lengths are rapidly decreasing while job frequencies are increasing. To achieve the flexibility, speed and control over operational costs required to compete effectively, professional printers need solutions capable of meeting a wider array of applications," said Sam Yoshida, vice president and general manager, Marketing, Business Imaging Solutions Group, Canon U.S.A. "Over the last few years, Canon has achieved several breakthroughs in scaling inkjet technology to enable new levels of productivity, quality, reliability and cost effectiveness in its offerings, leading to the development of the Niagara digital press."
Niagara is a result of customers, industry experts and Canon development teams working together to shape development priorities and various aspects of product concepts and processes. IWCO Direct, one of the largest providers of direct marketing solutions in the United States and a Canon client, was one such participant in the Niagara Project.
"I expect Niagara to help inkjet expand into new segments because it will offer a practical sheetfed solution that produces high-quality results on the same media we use in our offset work," said Dave Johannes, vice president of digital print and mailing operations at IWCO Direct. "Besides offering the potential to help reduce our overall operating costs, what really excites me about Niagara is that we will be able to leverage many existing in-line finishing options."
PRINT 13 Preview
Canon will preview Niagara as a technology showcase at PRINT 13 (Booth #502), being held in Chicago's McCormick Place, September 8-12. The first Niagara-based digital presses are expected to be launched by Canon in the first half of 2014.
---
Commentary by Cary Sherburne
Print 2013 is shaping up to be a pretty exciting show considering it is only one year after drupa, where most of the major new product announcements seem to have historically been made. Not so this year. We have seen a flurry of very exciting announcements and what appears to have been quite a competitive Must See 'ems competition leading up to the show, and there is more to come, I am sure once we get there.
Today's "Niagara" announcement from Canon is intriguing. As the release states, it builds on the heritage of inkjet innovation that Canon has had, including the years of development and the IP portfolio it acquired with Océ. We were briefed on this announcement last month at an Canon event at its new Melville NY headquarters and it generated a fair amount of excitement among fellow media and analyst attendees.
If you don't want to look it up or don't already know (I admit, I had to look it up!), a B3 sheet, as defined by ISO 216, is 19.7x13.9" (500x353 mm).
Canon is positioning this press as a game-changer. One of the more interesting aspects is that it can apparently print on any standard offset media (including coated) without precoating or inkjet optimization, which has been somewhat of an issue with water-based production inkjet presses. Niagara is clearly aimed at moving more inkjet volume from black & white to color (yes, there is still a lot of B&W out there!) and at migration of more volume from offset to digital. Canon plans to structure the financial model in such a way that service providers can consolidate existing sheetfed B&W, highlight color and full color volumes onto one platform. At 3,900 duplexed B3 sheets per hour, it's pretty darn fast for a full-color sheetfed digital press (roughly 300 letter-sized images per minute according to my notes from the Canon event). It will be a CMYK press with two optional extra print stations.
Canon hasn't shared the details about why this ink formulation is different and what it is about it that enables them to print on standard stocks. It is my understanding that they will be keeping that information under wraps till product launch. The company did, however, indicate that the inkjet heads are the same as those being used in its JetStream and ColorStream product lines.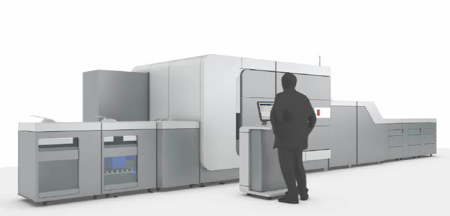 The press, which has a footprint of 30 feet long by 10 feet deep and 9 feet high, is targeted mid-sized to large commercial printers, data centers, direct mailers and book printers.
Canon claims that this press was developed with significant market input over the past couple of years, and Dave Johannes of IWCO, quoted in the Niagara release, who was also at the Canon event last month, spoke highly about Canon's ability to listen and take action based on what they have learned, as well as their willingness to partner on projects and solve client challenges large and small.
If you are going to Print 2013, stop by the Canon booth for more information. There will not be a physical press there, but there will be materials available about the press, including print samples and video. See you there.