German print enterprise Vogel Druck und Medienservice GmbH (VDM) in Höchberg near Würzburg has set the ball rolling on a project to replace an existing production line with an ultramodern KBA C48 commercial press. This step will serve not only to expand production capacity, but also to broaden the diversity of available formats for magazines and catalogues.
With its decision to invest in a KBA C48, Vogel Druck has yet again confirmed its reputation as an innovation-oriented print centre. Managing director Rolf Lenertz: "This investment enables us to satisfy current market demands in optimum fashion. As an economically strong member of the Bertelsmann group, we are also setting a clear signal for growth – against the branch trend and despite the generally challenging competitive environment. When the new press comes on stream in August 2014, it will lend a further boost to our production reliability, and we will be able to offer customers an ever wider choice of formats for their print products."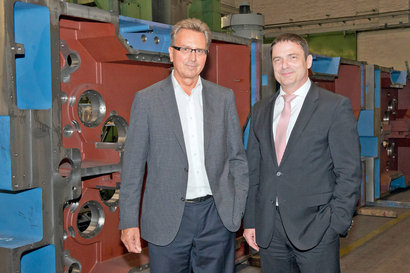 After signing the contracts at the KBA headquarters in Würzburg: Rolf Lenertz (managing director, Vogel Druck und Medienservice GmbH) with KBA executive vice-president for web sales Christoph Müller
The four-unit press for Vogel Druck has been configured for a maximum web width of 1,460mm (57.48in) and a cylinder circumference of 1,156mm (45.51in). In combination with a variable superstructure, integrated gluing device and a P5G folder with two deliveries, this caters for a wide range of products with up to 64 pages in reduced format. Standing alongside three further press lines and recent investments for the associated bindery, the new KBA C48 will become part of one of the most modern commercial web production centres in the branch.
Integration into the existing set-up
The new 48pp press features a particularly high level of automation. This includes, for example, automated KBA RollerTronic roller locks for reduced maintenance and high energy efficiency, and an ErgoTroniccontrol console with LogoTronic press presetting system, which is likewise geared to fast makeready and minimum waste. The KBA C48 is to be integrated into the LogoTronic professional production and management system of an existing 32pp KBA Compacta 217 with eight printing units. With its maximum production speed of 50,000iph, fully automatic plate changing and an operator-friendly drive concept with two motors for each printing unit, it promises ultimate productivity. The KBA EasyTronic module for optimised press start-up and run-down underlines the economic strengths of the engineering concept.
All-round service provider with full portfolio
With its 380 staff, Vogel Druck und Medienservice is one of the leading web offset print enterprises in Germany, and a specialist for perfect-bound and wire-stitched magazines, catalogues and brochures in the medium-volume segment. Beyond its web and sheetfed offset printing activities, the company sees itself as an all-round media service provider. The services offered include advertising specials, print and online media design, database publishing, address management and individually tailored mailroom and logistics services. Vogel Druck places the needs of its customers at the focus of all decisions, and accompanies them through the whole media process as a reliable professional partner and advisor.