Leading folding carton manufacturer praises print consistency and high speed of press
KBA North America announces that Walter G. Anderson, Inc., a leading independent supplier of folding cartons, has installed its second Rapida 145 57-inch press at its facility in Newton, Iowa in July 2013 where it is joining a twin KBA Rapida 145 57-inch press with coater, which was installed nearly two years ago.
"Ever since we opened our facility in Iowa in 2011, our first KBA Rapida 145 press has become the workhorse producing folding carton work," says Marc Anderson, president and CEO of Walter G. Anderson, Inc. "Today, that press is running round-the-clock with three shifts. The growth in our company, the requirements of our valued customers, and overall market demands precipitated a second press. We needed to increase our capacity and flexibility. Our second large-format KBA Rapida 145 with its latest technological advances was up and running within six weeks from delivery and operating like our first KBA press. We're very pleased with the production both presses give us."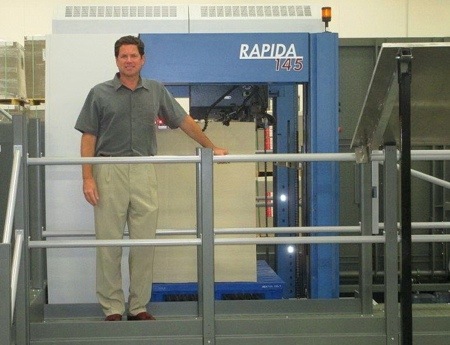 Marc Anderson, president and CEO of Walter G. Anderson, Inc., is pleased with the production of his second KBA Rapida 145 57-inch press installed at its facility in Newton, Iowa.
The firm installed its first Rapida 145 57-inch press with coater in August 2011 "under wraps" prior to its official debut at Drupa 2012. This press was installed at WG Anderson's 175,000 sq ft facility in Newton, Iowa, outside of Des Moines, which was purchased in February 2011. Anderson required the additional space with the continual growth of its business and to better serve its customers
"We looked really hard at the entire market of large format presses," says Anderson. "When we first learned about and saw the Rapida 145 in action, we knew it was the breakthrough press we were seeking. KBA has a strong leading reputation in large format and our prior eight KBA presses have operated very well.
Anderson cites a number of advantages on the Rapida 145. "The technological ingenuities on this press are amazing," he says. "The run speed of 17,000 sph is the highest among large format presses in this class and we're certainly taking advantage of it. Plus we were impressed with the redesign of the feeder as well as the new delivery extension and delivery. All of these features provide a real advantage to our business. I would certainly recommend this press for its fast run speeds and its quick changeovers. It's a quantum leap forward in large format."
Not only is Anderson impressed with the Rapida 145 and its production capabilities but so are its customers. Anderson reports that he has had a steady stream of visitors coming to Newton that are very happy to witness in person the Rapida's capabilities. They appreciate the design changes on the press and its much higher run speed. It gives them pause, he notes, when they come to visit the plant.
"Our customers are sending us jobs with more color and shorter run lengths, which precipitates on our part quicker changeovers," says Anderson. "We're investing in new equipment to provide a solution to their needs. Speed is paramount. We're listening to our customers and planning for the future. Our goal is to help our customers succeed."
Opening a new facility and equipping it with new machinery required Walter G. Anderson to hire new employees. Many came from varied backgrounds and had experience on older equipment. The press operators had to become accustomed to the new technology on the KBA press. For many of them, says Anderson, it was a big leap.
"KBA has been a genuine partner with us," says Anderson. "They continue to be supportive and offer on-site training as we bring new press operators onboard. The training has been superb and the KBA staff has been very patient. It was imperative to have them by our side to support the start-up for both new presses. Everything has gone very smoothly."
Founded in 1950, Walter G. Anderson, Inc. has grown to be the leading independent supplier of folding cartons in the upper Midwest. Walter G. Anderson's manufacturing facilities in Hamel, Minnesota and Newton, Iowa are among the most modern folding carton plants in the industry. The latest technology is utilized to bring high quality, fast turnaround and low cost on a wide variety of substrates. Its veteran, highly-skilled workforce provides its customers with prompt service and the highest quality. Its commitment to reinvesting enables the company to grow, as it meets and exceeds its customers demand for flexibility and responsiveness. Walter G. Anderson has been recognized by General Mills, Berry Plastics, Cargill, and Hormel. Its participation in AIB, GMA-SAFE, GFSI, and G7 affirms its commitment to good manufacturing practices.