Omaha, Nebraska printer aims to attract additional ultra-high quality customers with 41-inch UV
KBA North America announces that Printco Graphics Inc., one of the Midwest's premier sheetfed printers, is strengthening its growth trajectory by adding a new KBA Rapida 105 41-inch five-color press with coater and UV to its 78,000 sq ft facility in Omaha, Nebraska. The firm has posted an impressive 20% increase in business during the past year.
"As we celebrate our 20th anniversary, we are pleased to announce that Printco continues to grow and we are continuing to make huge investments in our business to keep that momentum," says Larry Reding, president of Printco. "This year we've added new packaging equipment, color management software, web development, a specialty products division, and of course, the new KBA Rapida 105 UV press. In order to increase our business flow, we are replacing an older KBA model, the Rapida 104 six-color, with the new Rapida 105. We chose this newest KBA because it satisfies our criteria, which is our aim into new markets—businesses looking for ultra-high-quality with unbeatable customer service. Our goal is to strengthen production, increase workflow and keep up with demand."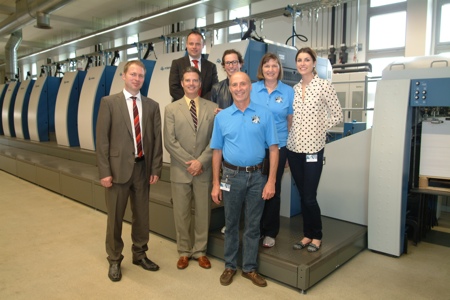 Photo: Left to right : (Back row) Michael Koch, KBA Germany sales manager; Troy Reding, Printco's vice president ; Pat Reding, Larry Reding's wife ; Angela Reding, Printco's customer service associate. (Front row) Jan Drechsel, KBA Germany sales director; Douglas Whitacre, KBA North America vice president; and Larry Reding, Printco president.
Printco's product mix is dominated by its growth in special high-quality print projects for large well-known corporations, such as a direct marketer and specialty retailer of outdoor recreation merchandise, and one of the largest manufacturers of agricultural machinery in the world. Its other 50% of product mix is its print production of general commercial work and a smaller percentage of packaging jobs.
"We strive to offer services and products to improve our client's experience," says Reding, "Our goal is to be more unique and efficient to better serve our customers. Our new KBA Rapida 105 will be two times faster than our current presses. Plus, we're adding UV ink as a capability on the press, which is an important step to reaching that goal of offering something that no one else has. After installing this press, Printco will be the first offset printer in Nebraska to offer UV ink capabilities."
The new KBA Rapida 105 will run in tandem with the current KBA Rapida 105 41-inch six-color press with aqueous coater. The latter press was installed in 2007 and in just seven months, the firm posted 23 million impressions on it. Printco's plan is to increase its capacity by using both presses with the ability to print with conventional inks. However, the new press, says Reding, will be used for higher-end work and will be running full shifts of 24 hours a day.
"We have a great track record with our KBA presses," says Reding, "We used to use a competitor's presses but ever since we switched to KBA, we've forged a strong partnership between our two companies that has been critical for our success. We've had an extraordinarily great experience working with KBA's president Mark Hischar and its vice president Doug Whitacre. The communication and customer service that KBA provides are both huge positives in our relationship."
As Printco moves forward, management will continue to forge partnerships with its blend of old-fashioned relationship building and technologically-advanced solutions. "Printco's major market is business-to-business, with a focus on larger companies," says Reding, "With that being said, we still cater to the small business and to the average consumer. My philosophy is to treat others how you would like to be treated. I operate under the idea that a handshake still means something—it's all about service, service, service. We focus on the customer's needs and that's something that hasn't changed in the past 20 years. And that winning philosophy will continue into the next generation of this family-owned business."
Printco Graphics Inc. was founded in 1993 as a commercial graphic studio with three employees and has grown to become one of the Midwest's premier sheetfed printers. Since its inception, Printco Graphics has more than doubled its customer base, as demand for the company's commercial printing services has risen among businesses that are expanding. The company has 100 employees and operates three shifts per day, 24 hours a day, seven days a week, in a 78,000-square-foot facility. More than 85% of Printco's customers are out-of-state. The company specializes in promotional products, such as catalogs, magazines, flyers, postcards, mail services, and promotional items. Printco provides large- and small-volume printing and is a digital and variable data house. The company does a large volume of both beauty supply printing and perfect-bound publications for dog owners. Printco was honored as one of the 25 fastest-growing firms in the state of Nebraska.
KBA North America is located in Dallas, Texas and a member of the KBA Group. Established almost 200 years ago in Wuerzburg, Germany, Koenig & Bauer AG (KBA) is the oldest and second largest press manufacturer worldwide. KBA's banner, 'People & Print', reflects its dual focus as a leading innovator for print entrepreneurs. The group's product range is the broadest in the industry; its portfolio includes commercial and newspaper web presses, sheetfed offset presses in all format classes, inkjet systems and presses, special presses for banknotes, securities, metal-decorating, smart cards, glass and plastic decorating, and flexible substrate systems. For more information visit the company's web site at www.kba.com