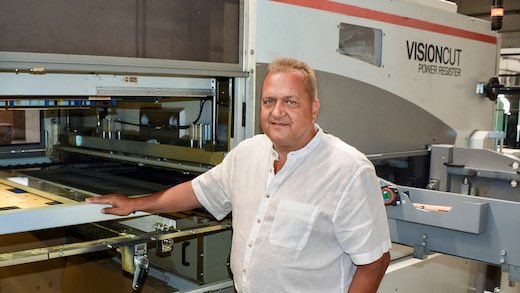 Probas was founded in 1991 as a small manufacturer in Svetla, Czech Republic. Since that time, with the expansion of operating premises and investments in technology, Probas has transformed into a large-scale converter of corrugated cardboard.
The year 1997 is considered a key milestone in this evolution, as this was the year when the first in-line die-cutting machine was purchased, which was in turn replaced in 2010 by a machine from BOBST providing three-color printing and located in a new production hall. Today, the company employs about 50 people and supplies products to all corners of the country and beyond. And since 2021, the company has been benefitting from more new technology from BOBST – the VISIONCUT 1.6 PR.
Probas LLC is led by three partners, all part of one family, but the company is mainly run by Radek Volsansky. "We are partners, but my brother is the head of surgery at a hospital in Cologne, and my father, who was one of the founders of the company, has just turned 79. So, I mainly represent the company. Of course, sometimes we argue here and there, we may have different views on certain things, but in the end, we always come to an agreement," Radek Volsansky says with a smile.
The benefits of keeping it in the family
"A family business is very good for some things, but less so for others," Mr. Volsansky says. "The good thing is that it takes a short time from decision to action. It's like an investment: we say we're going to buy or build this or that, and we can do it right now. On the other hand, large corporations have more financial resources to better fund investments, and they are primarily focused on profit. In a family business, we also looking at the future, for the next generation.? Today we have about 50 employees and a low staff turnover. We live in a small town and people know that we treat our employees fairly and pay well for good work. We know that work in our area is not easy, so we try to keep our employees happy, because in our "village" we all know each other."
Probas processes around 1.5 million square meters of cardboard every month. In terms of its equipment and capabilities, Probas can (and does) satisfy both large and small customers - from one piece to 100, 150 boxes and millions. The company also maintains a consignment warehouse for its selected customers. The portfolio of clients is wide, from various industries.
BOBST is a mark of quality
When looking for a new die-cutting machine, Probas conducted a study of the market, but Mr. Volsansky had already decided that he needed BOBST – a decision he is very satisfied with.
"We are very happy with the machine," he says. "BOBST is not new to us, we bought a die-cutting machine from the company many years ago, which was made in 1968! It was a reliable machine, of course at that time without electronics, all cast iron and mechanics. Even when we moved the machine on from us, it still worked. You can define quality. We also have machines from other manufacturers, so we can compare."
With the new VISIONCUT 1.6 PR Mr. Volsansky, knew to expect accuracy and speed. VISIONCUT provides maximum machine uptime: its clever workflow design minimizes unproductive time while job changeovers take less than 10 minutes. This also makes the machine suitable for handling short orders, which are quite common for Probas.?
In addition, it can process a sheet with a thickness of 0.75mm to 9mm, with a maximum sheet size of 1600×1100mm (1600×1075mm with die cut) and the smallest sheet size of 600×520mm, at a speed of 4800 sheets per hour. Other additional equipment can be purchased for VISIONCUT 1.6 PR as needed to facilitate the work i.e., die-cutting cardboard sections. These include a forklift that can load up to a two-meter stack of cardboard or an optional unloader. All in all, it means converters like Probas can deliver what their customers need.
"With the VISIONCUT 1.6 PR, we can give the client what he wants, and we have nothing to worry about," says Mr. Volsansky. "Our customers want quality, and if they don't get it, they demand a discount. BOBST solved all these problems for us as it gives us quality all the time. So, with BOBST, we have fully solved our die-cutter needs, and now that will probably be followed by a folder-gluer as ours is past its peak. And customers will continue to insist on higher quality at competitive prices. The competition is high, and we must offer the highest quality, otherwise others will overtake us."
Companies like Probas are the backbone of the packaging industry in the Czech Republic – a family-run, medium-sized company with strong ethics and values as its foundation. And with the latest technology from BOBST, they will continue to thrive!