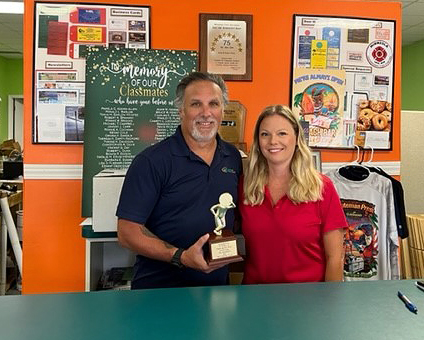 CLERMONT, Fla. — Ken Rose is the former Co-Director of Training for Minuteman Press International. Ken has now owned Minuteman Press in Clermont, Florida for 15+ years. Minuteman Press Clermont is located at 304 Mohawk Road, Clermont, FL 34715.
Ken Rose, along with his wife Lisa, proudly displays the 15-Year Golden Minuteman Trophy in recognition of Ken's 15+ years of dedicated franchise ownership of Minuteman Press, Clermont, FL.
Ken shares the following advice that carried over from his time at Minuteman Press International that has helped him achieve success and longevity over the years as a Minuteman Press franchisee:
No matter what is going on, you have to have a positive attitude
Plan your day the night before and arrive early
Do what you say you're going to do, and do it (Roy Titus, co-founder, Minuteman Press International)
Be proud of what you do & always tell people who you are & what you do (Roy Titus)
Be active in the community through clubs and organizations, and be visible
Pay yourself a fair wage (Roy Titus)
For more information, visit https://minuteman.com/us/locations/fl/clermont/.