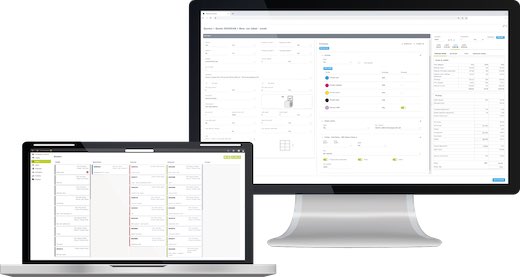 One of the longest running print MIS suppliers is getting ready to introduce their brand-new MIS to the label and flexible packaging sector at Labelexpo Americas.
Following the official launch of their cloud-native software in 2021, Tharstern have spent the last year working with a group of beta customers to create a product that they say will transform and modernize the MIS market for label and flexible packaging converters.
Any companies that would like to see Tharstern Cloud in action can head to booth 3635 for a demonstration and sign up for a 3-month free trial. "We've created Tharstern Cloud to be so intuitive and easy to use that we've removed any cost associated with the onboarding and training process," said Tharstern CEO Keith McMurtrie. "So your 3-month trial really is free; there's no hidden costs."
Tharstern will also be demonstrating the unrivalled connectivity that has been built into the MIS product from the very beginning. CEO McMurtrie explains: "We've created Tharstern Cloud using an API First approach, which means that any data within the MIS can be written and read by any external application, at any level. Client details, order statuses, shipment information, ink colors - every single data object! In today's technologically connected world, that is pivotal."
The software will initially support the label and flexible packaging sectors only, but over the coming months, support will be added for the manufacturing methods used in other sectors, such as carton packaging, wide format and commercial printing. This is down to the 'sector agnostic' approach that the software developer has taken when creating the product. It has the ability to be taught any type of manufacturing process, in any type of sector, to support the growing trend for diversification into other areas of print.
"Tharstern Cloud isn't just a web application migrated to a Cloud platform, it's built on cloud-native technologies which means as well as the obvious benefits such as remote working, mobility, and always being up-to-date, it also offers world-class security, availability, and almost unlimited scalability. We're so excited to be taking Tharstern Cloud to Labelexpo and show visitors what it's capable of." Keith McMurtrie, Tharstern CEO.
If you're attending Labelexpo and would like to book a demo, visit www.tharstern.com/labelexpo-demo.