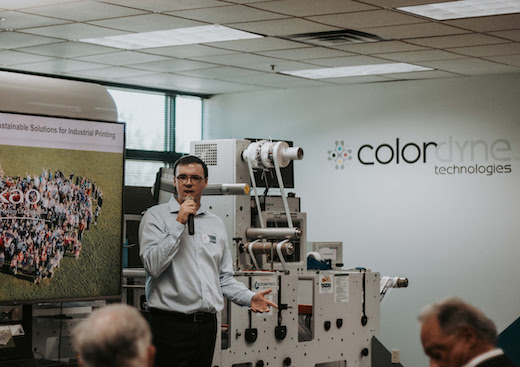 Taylor Buckthorpe Presenting at Colordyne Technologies' Open House.
BROOKFIELD, Wis. – Colordyne Technologies, a leading manufacturer of inkjet print engines, welcomed visitors to its new Inkjet Innovation Center at its corporate headquarters in Brookfield, WI. The event hosted last week was focused on the benefits of adding digital capabilities to print production for narrow web labels and packaging businesses.
The Open House featured presentations from industry experts including our partners Kao Collins, Xitron, Avery Dennison and Colordyne Technologies. Attendees saw live product demonstrations of Colordyne's 3800 Series process color retrofits, the UV-LED print engine and its latest eco-friendly water-based development.
"Our goal for this event was to show customers how Colordyne's inkjet print engines can allow them to gain a competitive edge," said Taylor Buckthorpe, Director of Sales & Marketing at Colordyne Technologies. "Attendees experienced the versatility of our inkjet technology and how working with Colordyne can help fast track its adoption. We thank all of our partners and attendees for making this a successful event".
During the Open House, Buckthorpe spoke about the benefits of digital printing and the reliable print-to-die-cut capabilities of Colordyne's inkjet retrofits. You can watch highlights in this video. To see more about Colordyne's inkjet process color retrofits in person, visit Colordyne at Labelexpo Americas 2022, booth 5923 or email us at [email protected] to schedule a demo.
Visit www.colordynetech.com for additional information.