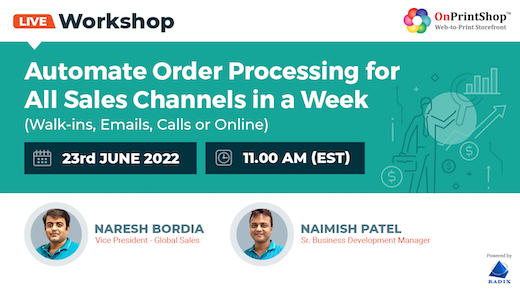 Automated Order Processing for all Sales Channel in a Week (Walk-ins, Emails, Calls, and Online)
Today offering Modern & Consistent Custom Experience is a key to drive results for your business. Print companies struggling with different processes & platforms to manage orders from different sales channels as they get orders via Online, Email, Calls or Walk-ins. Their team & client struggle as they have to go through different process if they order online, offline via email or walk-in. Which directly impacts productivity, delivery on time & repeat sales.
This webinar will help print companies to understand how successful companies have Automated Order Processing within a short span and increased sales offering Modern Customer Experience & automated order processing.
What you will learn from this Webinar:
Increase Sales from Inquiry to Order Conversion
Setup Standard Products with Instant Estimates
Manage Custom Quotes & Offline Orders
Centralised Order Processing
Setup Job Board – departments and production processes wise to track orders
Reports and Data Analysis for future growth