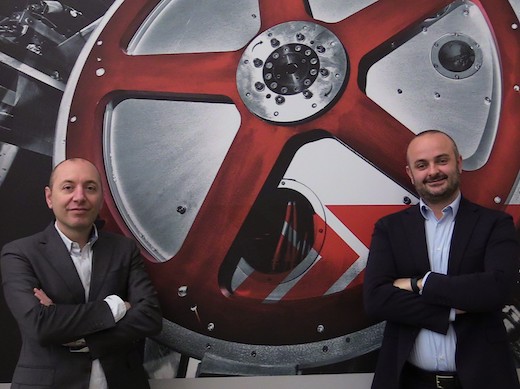 L-R - Riccardo Passerini, Kodak and Marco Rosani from GDM.
Kodak and GDM have entered into a partnership to integrate Kodak's high speed inkjet technology into disposable hygiene production lines. Kodak is a leading global manufacturer focused on commercial print and advanced materials & chemicals; GDM, a company of Coesia Group, based in Offanengo, Italy, is a global leader in converting and packaging solutions for the Disposable Hygiene industry.
The new agreement allows GDM to integrate KODAK PROSPER S-Series and PROSPER Plus Imprinting Systems into its converting and packaging lines for Disposable Hygiene products. This will enable GDM to provide complete solutions that include digital printing of decorative designs, marketing messages, and instructions for use during the manufacturing process of the entire range of Disposable Hygiene products.
KODAK PROSPER S-Series and PROSPER Plus Imprinting Systems use KODAK Stream Inkjet Technology which are perfect for these applications. With speeds of up to 600 m/min (1,000 ft/min), they keep up with the productivity of GDM equipment and enable high-quality monochrome or multicolor printing. Thanks to their compact design and flexible installation options, PROSPER Imprinting Systems can be easily integrated into GDM manufacturing lines. Kodak's imprinting systems use cost effective water-based, nanoparticulate pigment inks which are used for printing on the hygiene substrates that have passed US and European certifications for direct skin contact and food safety.
The KODAK Stream Inkjet Technology and the GDM Converting and Packaging Technologies represent a "perfect know-how match". Thanks to more than 20 years of experience and a strong commitment to innovation tied to efficiency and reliability, GDM is able to guarantee process flexibility and full control at high speeds. The integration of the two companies' technologies will ensure an optimum Overall Equipment Effectiveness (OEE) for GDM's converting-packaging lines.
"Our new partnership with Kodak is a major step forward for GDM to expand our added-value solutions. Combining Kodak's continuous inkjet and sustainable ink technologies with GDM's expertise in material handling will deliver a wide range of opportunities for our customers," said Marco Rosani, Market Development Manager, GDM. "Our customers will get increased flexibility, cost optimization and a more sustainable approach thanks to the inline integration."
"Our collaboration with GDM is further proof of the suitability of Kodak's unique continuous inkjet technology for a wide range of industrial applications," commented Giuliano Bianchet, VP Sales EAMER, Kodak. "Integrating our PROSPER Imprinting Systems into GDM's production lines makes digital imprinting a highly flexible, cost-effective step within an efficient, end-to-end manufacturing process."