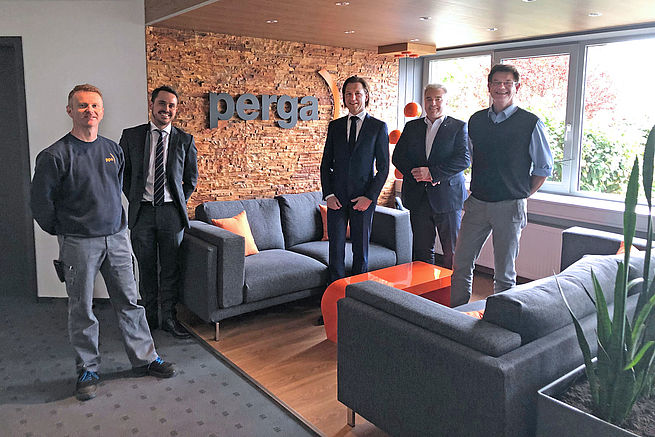 Right after signing the contract (left to right): Alexander Eckstein, printshop manager, Perga GmbH; Fabian Wilhelms, managing director, Perga GmbH; Joachim Barthelme, COO, Koenig & Bauer Flexotecnica; Arno Vogelhuber, sales manager Koenig & Bauer Flexotecnica; Joachim Michenfelder project manager, Perga GmbH.
Sustainable films and packaging
Perga GmbH impressed by the complete package
Focus on ecological and business objectives
State-of-the-art, high-performance printing press
Perga GmbH, which is located in Walldürn near Würzburg, is investing in a brand-new Evo XD 8 from Koenig & Bauer. The company has been growing steadily for several years. Its main focus is directed at supplying sustainable products to its customers. "In this respect, our philosophy is perfectly aligned with that of Koenig & Bauer. The press implements all the principles that we have championed for years. Our goal is to combine sustainable production with the highest possible quality," says Fabian Wilhelms, managing director of Perga GmbH. The press is designed to print with solvent- and water-based inks, and a special heat exchanger system with an integrated drying air control makes particularly energy-efficient and cost-saving production possible. Fabian Wilhelms: "The print tests we attended at the Customer Technology Centre in Würzburg gave our team a very good impression of the press. We have every confidence in the capabilities of Koenig & Bauer and the Evo XD." The new press is scheduled to start production in the spring of next year. Luigi Magliocchi, managing director of Koenig & Bauer Flexotecnica in Italy: "We have now sold several of our presses to German companies. Being able to demonstrate the Evo XD at our Customer Technology Centre in Würzburg is a huge help. After all, many of our customers have been unable to travel to Italy due to the current pandemic."
Sustainable industrial films and packaging for all applications
The company was founded in Walldürn-Altheim near Würzburg more than 50 years ago. Since then, Perga GmbH has grown to become a leading manufacturer of mono and coextruded films and packaging based on PE-HD. Other products made from PE-LD and other polyethylenes supplement the portfolio. Sustainability and quality are the company's guiding principles – which is why the development of eco-friendly products is an important issue at Perga GmbH. In 2019, a significant number of its products were even awarded the "Blue Angel" ecolabel for their outstanding environmental characteristics.
Heading for the future with the Evo XD
The Evo XD – a state-of-the-art CI flexo press with eight printing units, a new dryer generation and newly designed drive and control systems – is engineered to meet exacting quality standards in production using a broad diversity of substrates. It accommodates web widths up to 1,320 mm and repeat lengths up to 1,070 mm. The technical highlights include a high-efficiency, energy-saving ventilation system for the intermediate and bridge dryers.
The fully automatic PrintTronic impression control system, which allows makeready settings to be made without ink and with a bare minimum of substrate, helps minimise start-up waste, as does the user-friendly smart register control. All key automation and operating functions are integrated into the new touchscreens and permit intuitive handling at all relevant points around the press. When it comes to automation for fast job changeovers, the Evo XD represents the state of the art. Depending on the particular substrate in use, production speeds up to 500 m/min are possible.