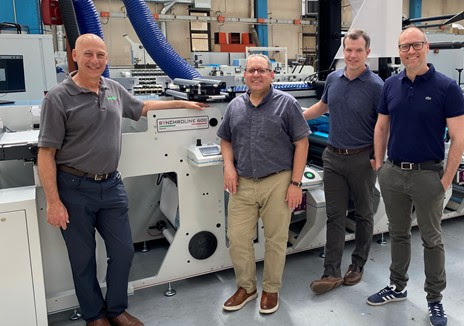 Left to right: Steve Leibin, president, Matik, Inc.; Ken Pizucco, chief supply chain officer, Fortis Solutions Group; Vito Ghiloni, vice president of manufacturing, Fortis Solutions Group; Massimo Lombardi, general manager of Lombardi Converting Machinery
Company benefits from speed, reliability and partnership
West Hartford, Conn. – Fortis Solutions Group recently invested in two high-speed, 24" flexo label presses from Lombardi Converting Machinery, an Italian manufacturer known for its quality and streamlined innovative technology. In addition to Lombardi's ability to deliver the presses faster than other manufacturers, the SYNCROLINE flexo presses provide exceptional registration, speed, ease of setup and labor savings. True workhorses purchased through Lombardi's North American distributor Matik, Inc., the new SYNCHROLINE presses offer excellent reliability for exceptionally long runs.
Fortis Solutions Group previously, before the Covid-19 pandemic, purchased a Lombardi Digistar fully modular digital finishing solution. As part of the sourcing process for the Digistar system, Ken Pizzuco, chief supply chain officer for Fortis, visited the company in Italy for live demonstrations of their finishing equipment and flexo presses. Installed at Fortis, the Digistar finishing equipment has proven to be a reliable, quality solution for highly embellished craft wine and spirit labels.
Fast-forward to 2021. As Fortis needed two new flexo presses to meet growing demand, the company conducted a thorough review of offerings from several flexo press manufacturers in the mid-web category. In addition to productivity, price and delivery timeframe, key criteria included reliability, given that the equipment is expected to run 24 hours a day, seven days a week.
"While the SYNCHROLINE system was a little more expensive than some traditional non-servo press options," says Pizzuco, "the printing speed will provide a greater long-term return on investment. The operators also appreciate the lower profile for enhanced ergonomics, simple web paths and user-friendly operation."
Lombardi machines are simple and elegant engineering marvels. While most competitive equipment uses expensive vision control systems that add unnecessary cost and increase preventive maintenance, Lombardi accomplishes the same objective using their extraordinary proprietary software.
"The secret of our success is that with our expanded geographic footprint, we are close to our customers. We work like a 'mom and pop' shop but with the benefits of scale." says Pizzuco. "We're very nimble and customer centric, and our suppliers need to be nimble, too. I enjoyed working directly with decision makers at Lombardi and Matik. They are technically knowledgeable and responsive. Receiving answers quickly cut months off the design and purchasing process."
Lombardi provides narrow- and mid-web solutions and produces modular flexographic printing machines equipped with standardized automation systems that can be configured to meet the specific needs of customers. Lombardi SYNCHROLINE Flexo presses deliver maximum versatility for printing on a wide range of materials, including BOPP, PVC, PE, PET, paper, adhesive paper, paired materials and cardboard. SYNCHROLINE has a fully automatic electronic preregistration system that minimizes waste and setup time, and delivers maximum precision.
Fortis Solutions Group provides a variety of packaging solutions, in particular pressure-sensitive labels that include extended content and booklet labels, flexible packaging, shrink sleeves, specialty cartons and applicators. The company serves the food, nutraceutical, health and beauty, automotive, beverage, wine and spirits, cannabis, industrial and pet care markets. Founded in 1978 and focusing on quality and service, the company employs more than 900 people, operates multiple manufacturing facilities with distribution capabilities in 13 states nationwide, and is represented by an experienced sales team that serves customers globally.
For additional information about Lombardi equipment and to request a sample kit or virtual demo, visit https://bit.ly/2TziYDC, call 860-232-2323 or email [email protected]. To learn more about Fortis Solutions Group, visit Fortissolutionsgroup.com.