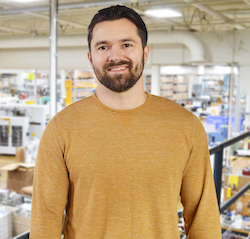 Midlothian, Tex. – Ennis, Inc. announced Ben McDonald as the new Production Manager of Independent Printing, located in De Pere, Wisconsin. Specializing in the highest quality presentation folders, commercial printing, and check products for print distributors, Independent Printing has been a print solutions expert for over 85 years.

Ben has been with Independent for seven years and in the printing industry for 20 years. He has held numerous positions throughout his career including EPS Technician, Prepress Supervisor, Planning Supervisor and Estimating Supervisor.

"I'm excited and grateful for the opportunity to make a greater impact at Independent," said Ben. "I know I can count on everyone in this building to be a great partner and contributor going forward."

Ben is married with two children and enjoys music, grilling and the Kansas City Chiefs in his free time.

For more information about Independent Printing, visit independentinc.com. For more information about Ennis, visit ennis.com or call the Ennis HOTLine at 800.972.1069.