Ground-breaking exclusive innovation offers significant benefits and generates great interest
• The two companies have worked together to perfect the Quantum Anilox engraving
• New roller is found to offer at least a 10-15% coating savings for printers when compared to traditional hex and trihelical patterns with the same BCM and LPI
• Less coating consumption with better overall coating lay-down
• One roll offers multiple applications
• Outperforms traditional engravings on both AQ and UV coatings
Dallas, Tex. – Koenig & Bauer along with Harris & Bruno International proudly announces its newest groundbreaking innovation in anilox engraving roller technology. The launch of Quantum for sheetfed presses marks a continued strong partnership between the two firms and provides significant benefits such as higher quality, less coating consumption, and cost savings.
"New laser technology has allowed us to innovate by engraving a "cleaner" cell with thinner cell walls," says Sean Tobler, business development manager at Harris & Bruno. "This is a natural progression from coarse highly structured cells to a more fine cell built for better release of fluid and solids. This design has improved the flow of coating out of the cells to the coating blanket, which helps transfer solids in particulate coatings exceptionally well. The open nature of the cell, combined with its interrupted structure, means that it can minimize foaming while limiting slinging for less viscous water-based coatings."
The new Quantum roller will positively affect Koenig & Bauer's customers in many ways. With the advancement of laser engraving Harris & Bruno had the opportunity to research different engravings, smoother cells, and thinner walls. Koenig & Bauer was seeking an engraving to lay down smooth and consistent coatings that will work with the Harris & Bruno chamber in all of Koenig & Bauer's presses across all sizes.
"It's always great to work with Harris & Bruno," says Chris Travis, director of technology at Koenig & Bauer. "They have a great team. In particular it's been very rewarding working with them on the Quantum engraving. When initially discussing with Harris & Bruno the need for such an engraving they took onboard the requests and came back with the Quantum open cell technology. This takes it to new levels and can benefit all printers with the majority of coatings out there today. This is a low-cost method to add bite to current coating effects when using Soft Touch and matte. We have seen benefits just by changing the roller. Customers using UV gloss coatings will see a smoother laydown. It will be especially appealing to our high-volume packaging customers for pure consumption savings. Specialized folding carton converters will also see a more pronounced effect with their current coatings. Plus, it has been designed with an engraving angle and direction that allow for more coating release in relation to the chamber and from the anilox to the coating plate."
Customers have been happy as well. "We recently tested the new H&B Quantum anilox roll, which is designed to give better particle release and lay down a smoother coating film, specifically for soft touch or matte coatings," says Scott Burnett, production manager at Cedar Graphics, a premier award-winning commercial printer located in Hiawatha, Iowa. "The project was a high end commencement program for a university, and the background of the cover was a solid black background (double hit with black). We were highly impressed—the Quantum roll laid the soft touch coating down perfectly, giving an incredibly smooth flat appearance."
www.koenig-bauer.com; www.harris-bruno.com;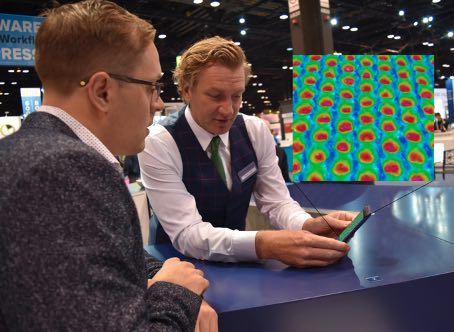 (Left to right) Sean Tobler, business development manager at Harris & Bruno; and Chris Travis, Koenig & Bauer director of technology; discuss new advancements in anilox technology; inset: a Harris & Bruno roller