Mexican packaging group sets new standards for the optimisation of production processes
First installation of a six-colour Mailänder 280 UV printing and coating line
Combination of three production steps secures ultimate efficiency
High-end configuration with UV drying and inline coatin
Ever since 2013, Koenig & Bauer has presented an annual "High Performance Metal Decorator of the Year" award. The award was established to honour customers who use the company's products to demonstrate achievement beyond the scope of everyday performance in the field of metal decorating. Over the years, the coveted prize was picked up by companies such as PT United Can Company from Indonesia, Glud & Marstrand from Denmark, Ball Corporation from the USA and LITALSA from Spain, to name just a few.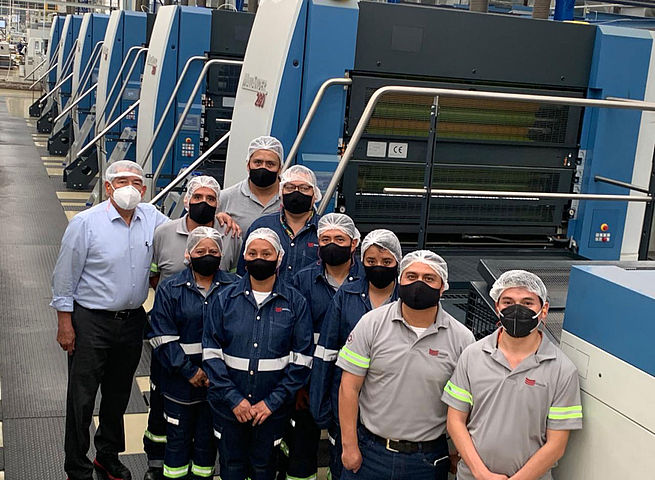 Plant manager Carlos Calderon and his team were deservedly proud to receive the award.
In 2020, the award jury vote fell in favour of Mexican packaging specialist Envases Mexico.
With the installation of the first six-colour Mailänder 280 UV printing and coating line, Envases Mexico has set new standards for the world of metal decorating when it comes to the optimisation of production processes. The new line permits three production steps to be rolled into one and is thus exceptionally efficient and cost-effective.
Operation of such a complex production line is a demanding task and calls for a well-organised printshop, as well as experienced and properly trained personnel with passion for the work they do. Those were also the credentials which helped Envases Mexico to a clear majority when Koenig & Bauer MetalPrint weighed up the nominations for "High Performance Metal Decorator of the Year 2020". The award jury comprises the CSO, the project engineers, the head of product management and the regional sales directors.
The six-colour UV printing and coating line is the longest Mailänder 280 line which has ever been built. The configuration is unique. The line incorporates UV drying systems, a MetalCoat 480 inline coating machine and the very latest sheet handling equipment.
Envases Mexico uses the line primarily for the decoration of metal sheets up to a thickness of 0.455 mm for industrial packaging. That is also why a Mailänder 280 was chosen. Thanks to its robust design, the Mailänder 280 is ideally suited for production with thicker sheets.
The Envases Group is one of the largest packaging producers in the world. It operates three packaging divisions: food and industrial packaging, aluminium beverage packaging and PET packaging. With 72 production facilities on four continents, Envases has grown enormously over the past few years. The group also includes the former Danish company Glud & Marstrand, which itself won the award in 2017, and the German Huber Group, which Envases acquired only in recent weeks.
The Covid pandemic unfortunately means that we are unable to present the award in person.
Therefore, we congratulate Envases Mexico from afar for the time being and look forward to an official presentation in the accustomed manner as soon as circumstances permit.