Scodix, Israel – Scodix, the world's leading provider of digital enhancement solutions for the graphic arts industry, today announces that sendmoments has installed a Scodix Ultra 3000 press to support its Web-2-Print services. This is the third Scodix Ultra press that sendmoments has installed to-date.
Founded in 2012, sendmoments GmbH is a Web-2-Print company offering classic online print products such as invitations, thank you cards, photo books, wall prints and more. Since the company's inception year-over-year business has grown, and following the inclusion of digital enhancement, print value has grown vastly. sendmoments customers rave about the ease-of-use experience, the product choice and the quality of personalized enhanced print according to Michael Nadler, Managing Director at sendmoments.
Nadler states, "Our exclusively-digital print production facility has been consistently expanding since its creation. Demand for personalized foil and other enhancement applications have increased every year since we started. Our customers love our quality and choices, and they keep coming back for more."
The Scodix Ultra 3000 Digital Enhancement Press is specifically designed for the Web-2-Print sector. Packaged with the Scodix Studio Web-2-Print automation workflow platform as standard, throughput is maximized by automating print data preprocessing.
Scodix CEO Eli Grinberg notes, "E-commerce is booming, even throughout the global pandemic it's a market that has stayed strong, and growth has even accelerated in lots of areas. We see an increasing number of businesses adding multiple Scodix Ultra presses to their Web-2-Print production floors to keep up with demand. This alone is testimony to the value of Scodix Ultra technology and the Scodix Web-2-Print automation workflow, which fits seamlessly into this type of production environment."
The Scodix Ultra 3000 is part of the Scodix Ultra 1000's Series launched in 2020, which includes six Scodix Ultra presses each designed for a specific market. Like all presses in the Ultra series, the unique B2+ Ultra 3000 press is compatible with offset, HP Indigo ElectroInk, inkjet, lamination, and toner presslines.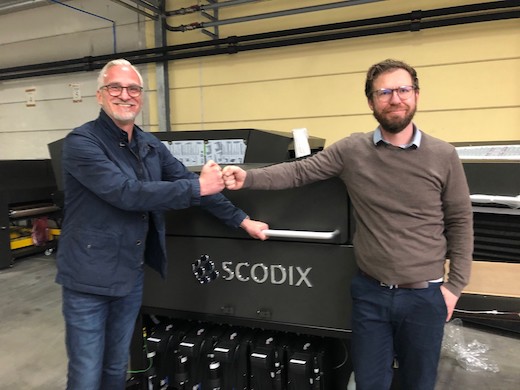 From left: Franz Repp, Scodix Sales Director DACH Region with sendmoments Chief Marketing Officer Sven Binder.