SWAN Industries assesses the benefits of Fujifilm's inkjet technology a year on from making its first investment

One of Thailand's biggest metal packaging printers, SWAN, has been supplying high-quality printed metal sheets to a wide variety of canmaking customers for more than half a century. The company was one of the first in Asia to recognise the transformative potential of inkjet technology to the metal packaging market and, in late 2019, it became the first company in the region to invest in Fujifilm's revolutionary digital inkjet printer, the Acuity B1.
"We started looking for a digital press initially because we needed a proofing device," explains Operations Director, Vorasit Dejthamrong. "We had a pre-existing relationship with Fujifilm as they had been a plate supplier to us for many years, so it was through that connection that we first came to learn of the Acuity B1 and, for a couple of reasons, it really stood out compared with everything else we looked at.
"The first thing was the quality," Mr Dejthamrong continues. "Customers are becoming more and more demanding when it comes to quality and no other digital machine we looked at could reach a standard acceptable to us. But, even more importantly, the Acuity B1 offered us the opportunity to do much more than create high-quality proofs - it opened the door to profitable short-run commercial work.
"Run lengths are coming down. Though we still of course do very long runs of 100,000 sheets or more, we're also getting asked more and more often to do jobs that are much, much shorter than that. It's not uncommon now to be asked to produce jobs with run lengths as low as 100 and, to be honest, anything less than 2,000 is very difficult to produce profitably. Before we had the Acuity B1 we would either turn down opportunities like that or produce them at a loss."
Mr Dejthamrong sees digital inkjet printing technology as an integral part of the future of the Asian canmaking market. "Our customers are already delighted with the speed with which we can now turn small jobs around - and they are amazed by the quality," he says. "And to be honest, we haven't really even begun to scratch the surface of what inkjet technology is capable of. So far, we've very much focussed on the same type of work we do on our litho presses, just with shorter runs. But there is a world of possibility out there with creative effects, customisation and personalisation that the market doesn't yet fully understand. That's the next step for us - educating our customers about the creative possibilities that are going to shape the future of the industry. With the Acuity B1 and our partnership with Fujifilm, we're in the best possible place to do that."
Kevin Jenner, Business Manager, Fujifilm Wide Format Inkjet Systems says: "The metal decoration market is a very analogue world, but Fujifilm inkjet technology, which has transformed so many commercial and wide format print businesses over the past two decades, is now doing the same for metal packaging printers. Early investors, like SWAN Industries, are already seeing the huge range of benefits this technology brings, as well as positioning themselves to make the most of future opportunities."
For more information, visit www.fujifilm.eu/eu/products/graphic-systems/, or www.youtube.com/FujifilmGSEurope or follow us on @FujifilmPrint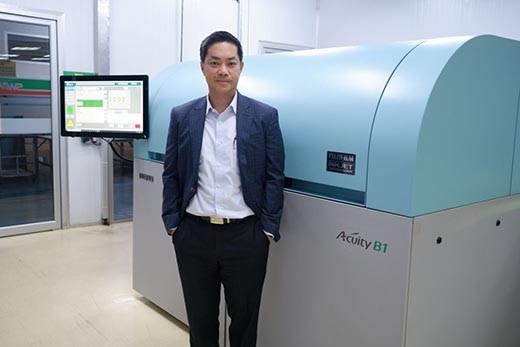 Vorasit Dejthamrong, Operations Director, SWAN