Yavne, Israel and Všetaty, Czech Republic – THIMM pack'n'display recently won no less than five awards in the prestigious OBAL ROKU packaging competition for Czech and foreign companies involved in an interesting packaging solution. The company is also on the shortlist for the Jury Award – the best of the best – for its Highcon digital laser cutting and creasing capabilities.

THIMM pack'n'display in the Czech Republic was one of Highcon's first Beam 2C customers for digital cutting and creasing for corrugated packaging and display. Since commencing its operation, early this year, THIMM have been actively promoting the advantages of the digital technology among its customers through multiple channels.

Martin Hejl, Managing Director, THIMM pack'n'display said: "We are proud to have received so many awards for our products. The introduction of the Highcon machine for the production of packaging, displays and decorative backdrops is particularly suitable today when the ability to go to production with no need for a traditional die-cutting tool allows us flexibility in our scheduling as well as performance benefits due to the precision of the laser cutting and digitally driven physical creasing. We believe that this digital technology is definitely on its way to make a marked positive impact on the way packaging and display products are being designed, ordered, manufactured and delivered to the marketplace.

Shlomo Nimrodi, CEO Highcon Systems added: "Thimm is a very innovative company and we feel honored to have the opportunity to work with them on driving this industry change. It has been really gratifying to see the advantages of our technology translate not only into profitable business and satisfied customers for our customers but also into well-deserved awards. THIMM have truly demonstrated the capability of the Highcon Beam 2C to differentiate their products and engage with their customers, delivering what they need, when they need in whatever quantities they need"

The Prizes:

Process & Technology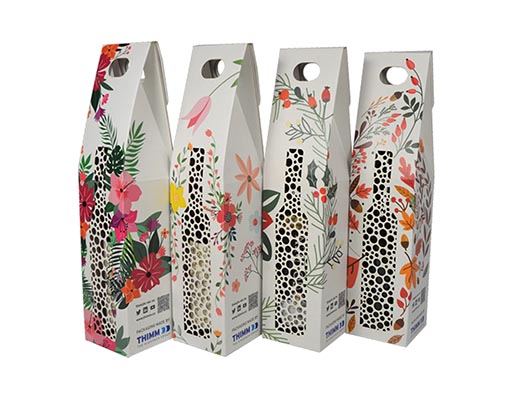 Laser can cut structures from corrugated cardboard that were hard to produce so far or not feasible at all.

Others
THIMM has designed and produced a transport package for Herbadent for sending packages with samples to dentists and dental hygienists. The primary task of the package was: to differentiate, surprise and engage! After opening the plain brown package, a WOW effect occurs. The rich color graphics of the sample package are complemented by a lasered Herbadent inscription and a toothbrush image.

E-commerce
The exclusive SPOKOBOX for their e-commerce shop SpokojenyPes.cz was produced using digital laser cutting & creasing and digital printing technology. The limited-edition box is decorated with small cutouts on the sides. On the front and lid of the e-commerce box are lasered inscriptions and holes in the form of paws and dog bones.
Customers do not simply throw away the box but keep it for further use, retaining brand recognition and loyalty.

Luxury
To support the communication of its products, the Activia (Dannon) brand approaches a number of well-known Czech food bloggers and influencers. Packages with a supply of Activia shots for one week were sent to them to comment on social media. To increase the exclusivity of the shipment, the packaging was supplemented with a lasered ACTIVIA inscription

Electronics and appliances
THIMM developed a package for a design lamp that is functional, practical, easy to fold, 100% recyclable and especially underlines the design of the product itself.

Four of these products are now also candidates for the international WorldStar Packaging Awards (http://www.worldstar.org/) competition.

The Highcon Beam 2C digital cutting and creasing solution answers the stringent market requirements for corrugated packaging; non-crush process, customizable to enable rightsizing and light-weighting of packaging; strong enough to allow product to be shipped in its own box; and at the same time providing a positive unboxing experience that supports brand owners. The Beam 2C is available in two versions – a pallet feed standard configuration and a field upgradable nonstop feeding, waste removal and stacking configuration.