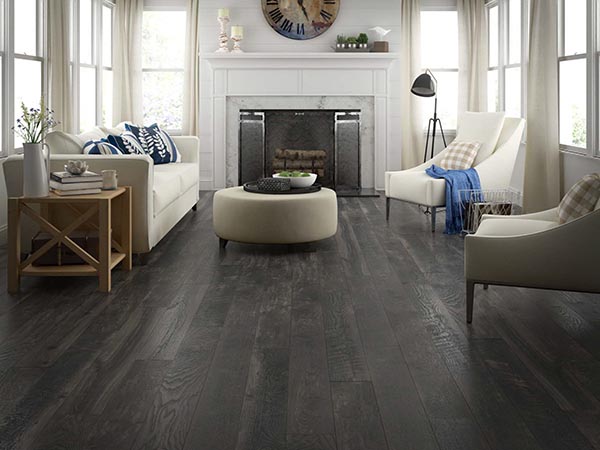 Imagine receiving for Christmas—or the holiday of your choice—a gift that you could then use to scan the tree or other holiday items. Thanks to METIS, you could scan your Christmas tree and then reproduce its texture using any of a variety of analog or digital print processes.
One of the fastest-growing applications in wide-format and industrial printing is textures. Particularly in the area of décor, items like laminate flooring can be printed to simulate the feel of wood. While a lot has been written about how these kinds of materials are printed, typically using UV flatbed wide-format printers, not much has been said about the front end of the process. How exactly are these textures created?
Based in Rome, METIS manufactures high-quality, multi configuration scanners specifically designed for the décor industry. They can capture a photorealistic reproduction of an existing surface such as a fine-art painting, wood, or ceramic/stone flooring, a solid panel or a wallcovering.
Step one is to gather those surface attributes, which include RGB color, 3D surface texture, and glossiness, which is what METIS scanners are uniquely designed to do.
The METIS technology was used in the design of this flooring and to generate surface data in this computer-generated room scene displaying the product.
"METIS scanners are considered to have the highest level of color accuracy across the largest area and over the course of time of any commercially available RGB scanner in the world today," said Rob Lawrence, business development manager for Metis scanners at CGS ORIS. "Additionally, METIS is wholly unique in the image acquisition process, and brings an exceptional level of objectivity to the imaging process which is one of the key reasons it was brought into the product offering at CGS ORIS."
CGS ORIS is the official dealer for METIS scanners in the U.S.
High-Res Image Capture
METIS scanners are different from traditional flatbed scanners, because they scan the surface with a 16,300-pixel CMOS sensor and temperature-controlled LEDs up to eight times, each with tightly controlled angle and distance.
The captured data is saved into a proprietary file format. Once captured, METIS's Light Inspector software acts like a virtual photography studio where the operator views, in real time, a virtually unlimited number of lighting combinations to select the view of the surface that best represents the original.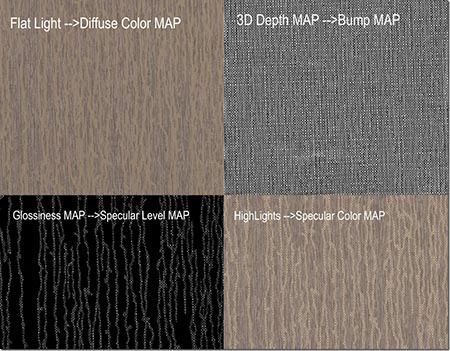 Specialty texture mapping offers various possibilities.
In addition, because of these known lighting angles, distances and temperatures, the METIS software will isolate and calculate the 3D surface depth and surface roughness/ glossiness variance. This data can be then exported as grayscale TIFFs (16-bit, 8-bit, 8-bit layers, 1-bit, and/or 1-bit slices) which can be used for laser and chemical etch engraving of press plates and gravure cylinders or single-pass and/or multi-pass UV inkjet printing and embellishment applications.
Hardware also needs software, and each METIS scanner comes bundled with METIS's ScanDirector, which controls the scanning process with all the controls needed for the most advanced photography requirements. Both applications share the same user interface and work interchangeably. METIS also offers additional licenses of Light Inspector for remote computers, which can be a tremendous benefit to a designer in a different location who wishes to select the lighting angle intensities to capture the nature/essence the surface they chose for a specific design.
Everything—Including the Kitchen Sink
METIS scanners are also unique in the variety of the surfaces they can capture.
"With heavy-duty powder-coated steel scanning tables, the scanners can hold over 500 pounds," Lawrence said. "But with integrated sensors, the scanners can be adjusted to detect the slightest weight change and resistance allowing the most delicate originals to be scanned without danger of being damaged by the scanner."
Some examples of materials scanned at METIS's demo center include a whole kitchen sink, 500-pound granite slabs, barn doors, white glazed tiles, oiled asphalt, oil, acrylic and watercolor paintings, grand-format maps, denim and a host of other kinds of textiles.
And we had to ask: what is the coolest thing anyone has scanned and developed with a METIS scanner?
"A fashion house in Milan scanned the wings of a preserved falcon and used the pattern to emboss the shoulders and sleeves of a leather jacket," Lawrence said. "We had one client lay mud on the table for a textile design."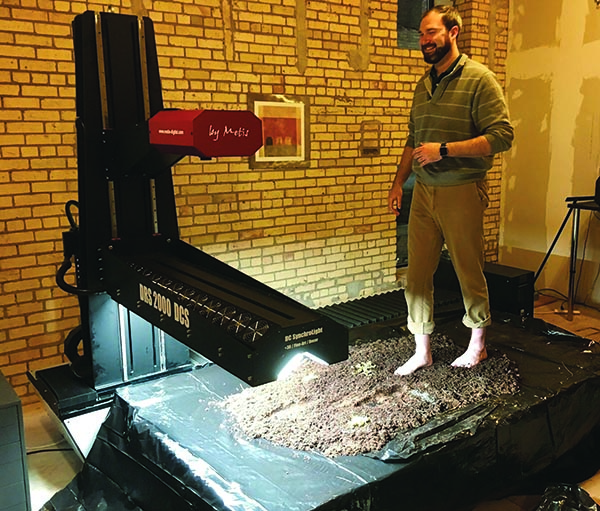 Got mud? No problem with the METIS DRS 2000 DCS Large Format Scanner.
Given the variety of materials and surfaces the scanners can digitize, they are well-suited for a wide range of markets. The three primary markets that the company specifically serves are décor (flooring, wall panels, wall coverings and ceramic tiles), fine-art reproduction and archival services (libraries and museums). Naturally, each of these markets has different imaging requirements.
"Depending on the market, the desired resolution, and if they plan to reproduce texture and glossiness will determine the kind of output required from the scanner," Lawrence said.

Pattern texture mapping to enhance wallpaper printing.
Market Dynamics
All markets have their own dynamics. "Decor is undergoing a transformation to a digital workflow," Lawrence said. "With digital will come a huge demand for more depth. The METIS scanner is a high throughput scanning technology equipped to deliver all of the needed data and files for the latest digital printing technologies, which include the ability to generate surface texture and glossiness for embellishment or texture builds."
For the fine-art market, some of the benefits that the METIS scanner offer are similar, but there are some unique requirements for this market.
"The ability to capture and reproduce an original work of art with a printing process requires not only an ability to accurately reproduce a painting, but also an adept understanding of the artists they serve," Lawrence said. "The METIS gives the fine-art professional a tool to start off with the most complete and accurate capture, and combines it with a scanning methodology and software tool to work with the artist side-by-side to capture the true essence of the original in real time."
The scanner can also export accurate surface texture and glossiness details in formats unique to each printer's capabilities, such as ink thickness per pass, as well as the ability for the RIP to lay down individual layers to build up the surface height.
For archival services, it's all about capturing detail and consistency.
"The METIS scanners were designed to provide the highest level of light uniformity and detail for the most challenging originals," Lawrence said. "METIS flatbed scanners are among the rare elite scanners capable of achieving a FADGI 4-Star designation, the highest quality standard in the archival industry."
Some specific METIS customers and the kinds of tasks to which they are putting the scanner include:
The world's best-known tile manufacturers and retailers use the METIS to generate original designs and to create their marketing imagery for catalog and online content.
The décor manufacturers in the U.S. are using the METIS to reduce time, costs, and ultimately product returns by generating more effective sample materials.
Fine-art reproduction houses are using the METIS to produce higher-quality images for 2D giclées, as well as 3D-textured fine-art reproductions produced on a flatbed UV printer.
Colorimetry for hard-to-color-manage printed media such as ceramics, wood, concrete, and carpeting.
Opportunities for Print Service Providers
METIS scanning technology can also provide opportunities for graphic arts firms and print service providers.
"With advancements in 3D and 3D-like technologies, there is a need for realistic surface data, and the METIS's ability to capture and deliver graphics of the surface attributes of color, texture and glossiness will mean greater realism with these technologies," Lawrence said.
The METIS technology scans materials from a topical level. This approach also benefits colorimetry creation for materials which would be impossible to profile by traditional methods. When accurately reproducing hard-to-replicate detail, proper color management is just as important as the images color data. METIS has partnered with ColorGate Digital Output Solutions, GmbH to prepare colorimetry for accurate color management. What traditionally took hours now takes just minutes.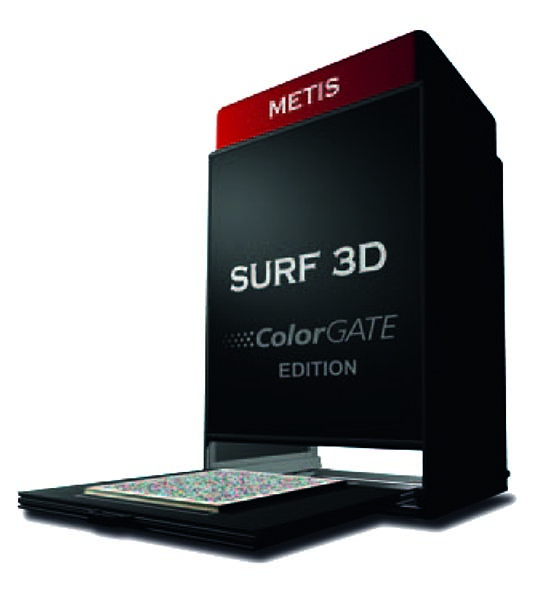 Multi-use METIS Surf 3D ColorGate Edition creates textured scans and colorimetry.
The benefits go beyond print. The METIS scanner can bring new revenue sources to graphic arts firms by "being able to reproduce 3D texture reproductions with existing UV printing equipment or providing scanning services for CGI/PBR (computer-generated imagery/physical based rendering) applications," Lawrence said.
METIS scanners could help expand offerings for print service providers' clients in that they can provide their clients with extremely color accurate photorealistic and/ or tactile realistic reproductions, and the scanners can deliver image data in whatever format is needed for a given print manufacturing method. And scanning surfaces are required for a host of needs beyond print, such as virtual/augmented reality, CGI, and PBR. Computer-generated room scenes, product displays, video game environments, and movies are increasingly calling for more photorealistic surface textures.
Think Outside the Box—and Then Scan the Box
What advice would Lawrence give creative designers when thinking about doing custom scanning for their production process?
"First of all, think outside the box," he said, "but remember that the scanner's job is to give you an absolutely faithful capture of the original. So, before you send a surface to be scanned, be sure it is as close as possible to how you wish the final output to appear. This includes gloss/sheen levels. But don't just get stuck on one option, the METIS software enables real-time lighting perspective changes post-scan to allow for virtually unlimited perspectives that would take other scanning technologies days to try to create. It is easily adjustable to scan multiple scan mapping options in less time than other devices.
"The METIS's ability to develop colorimetry, isolate and capture these element detail and depth will mean you will have less post-scan editing and the right maps to deliver to the different manufacturing processes."
Designers, don't limit yourself to just what you have available. Flat pictures and patterns that can be found through stock photo or traditional flatbed scanners don't give the topical and depth data needed if designing a piece which requires a realistic effect. Naturistic items such a leaves, wood, concrete and marble have a natural depth and detail, which must be captured accurately for printing with UV inkjet. Manmade items such as premade ceramic or glass tile sections can also be scanned to make continuous image for wall décor, only if all the light source data is included.
This extra data will allow the depth of the UV gloss printed to vary making the printed piece extremely realistic.

Ceramic, metallic and glass tile scanned for RGB and multiple light reflection data.
If you are lucky enough to find a METIS scanner next to your Christmas tree, it is a unique technology that can really provide some serious differentiation with benefits that extend long after the tree is taken down.
More information can be found at CGS ORIS (www.cgsusa.com) and at METIS-Group, Italy (www.metis-group.com).