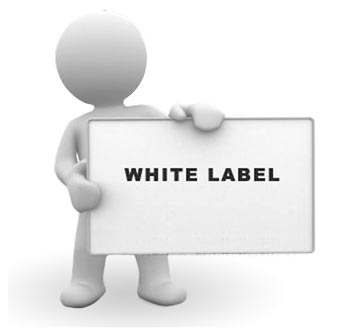 Seattle-based RPI announced the acquisition of on-demand printing assets from SoftPrint Holdings. The acquired assets include the ColorCentric production facility located in Rochester, N.Y. The acquisition includes ColorCentric's "printernet" software that drives personalized print-on-demand production of products that are produced by a network of printing companies located in Canada, Australia, and New Zealand, as well as in the United States. The ColorCentric model layers perfectly onto the RPI business-to-business model, producing photobooks and other personalized printed products for resellers.
Cruise all the available pages on the RPI and ColorCentric websites, and try as you might, you will not find the expected photobook app to build your own personalized photobook, calendar, holiday card, or other printed items. Nor can you find a way to place an order. That's because RPI, and the newly acquired ColorCentric, operate behind the scenes as "white label" back-end manufacturers for other online websites, large-scale retailers, and commercial print providers.
With financial backing from private equity firm Riverlake Partners and additional funding from HCAP Partners, RPI has added onto its original West Coast production platform, establishing RPI Europe in 2011 with the purchase of Paro, a printing company in Eindhoven, the Netherlands. In 2013, the company reached across the US to establish an east coast manufacturing facility with the acquisition of DPI in Atlanta, Ga.
RPI was not originally a technology start-up; rather the company had its roots firmly in commercial and document printing, having been established in Seattle back in 1979 as Reischling Press. In what must have been a move fraught with risk and uncertainty, the company made the prescient decision in 2006 to jettison its commercial print division and shift exclusively to private label manufacturing for e-commerce companies. With the explosion of the market for on-demand printed products, now widely available online and also at retail big-box stores, it appears to have been a good move.
However, with this latest deal, there appears to be a shift in strategy afoot at RPI: the acquisition from SoftPrint Holdings also included Picaboo.com, the consumer-facing website. In addition to the usual photobooks, calendars, and holiday cards, Picaboo also offers the latest rage in consumer printed products, personalized home décor items including wall canvas prints, photo panels, metal prints, and fabric items such as personalized pillows and blankets. Unlike RPI, which started as a printing company, Picaboo was founded as a pure technology solution company in 2002 in the midst of the dot-com bust. With venture capital backing secured in 2004, the company launched its desktop photo album software in 2005, eventually transitioning to an exclusively browser-based application. In contrast to the ColorCentric platform, a visitor to Picaboo.com is quickly guided to build a personalized product and place a direct order.
With Picaboo, RPI will be up against some very formidable competition from the twin print personalization giants Shutterfly and Snapfish. Both are now owned by Apollo Global Management which purchased the companies three months ago. (See The Target Report: June 2019, Photobooks & Personalized Consumer Products.)
We expect that there will be fallout in the market for photobooks and personalized products, which has rapidly matured along with the sophistication of online tools, digital printing technologies, and automation to drive efficient print production. We checked back to see how another online photobook company, Chatbooks, is doing in this hypercompetitive market. With funding from Aries Capital Partners, the company appears to still be in the game, albeit with a much more limited offering than the competition. (To see their clever and entertaining consumer print marketing that is still worth a look and a laugh, seeThe Target Report: February 2017, Consumer Web-to-Print.)
Packaging
Transcontinental continues its steady strategic transformation from a printing and publishing company into a packaging powerhouse. Canada's largest printing company acquired Trilex, a plastics and packaging company in Ecuador that specializes in the production and sale of packaging materials and protective barriers for banana farmers. Further executing its two-prong transitional strategy (acquire packaging assets; divest publishing assets), Transcontinental sold the majority of its specialty media publications and event planning activities to the Contex Group and Newcom Media. (For more about the transformation of Transcontinental, including charts of acquisitions and divestitures since the company embarked on this journey, see The Target Report: April 2018, Getting Flexible in Your Middle Years.)
Lebelink, based in Anjou, Que., acquired label printer Labelix, located in nearby Granby. Labelink produces a wide variety of products, including shrink sleeves and flexible packaging. The company has four facilities in Canada and one in Fredericksburg, Va.
Commercial Printing and Diversified Services
Wise Business Forms, a print provider selling exclusively via print resellers and distributors, acquired Shawnee Systems, a trade-only print manufacturer located in Cincinnati, Ohio that produces business forms. Wise, headquartered in Alpharetta, Ga., has five manufacturing locations, extending up the eastern coast to Maine and west to Indiana.
Commercial printing company, Range Printing, based in Brainerd, Minn., announced the acquisition of Spectrum Marketing Services, a regional printing company with strength in the decorated apparel segment.
In an unusual move, three trade creditors of the defunct Colortree Group, which closed its doors abruptly in June, filed a petition in the US Bankruptcy Court in September to force the remnants of the company into an involuntary Chapter 7. Presumably, the creditors wanted to gain some court oversight of the process and have a seat at the table. The filing will mean that a trustee will be appointed to oversee the disposition of remaining assets to the unsecured creditors, if any, after satisfaction of administrative and secured claims. (See The Target Report: June 2019 M&A Activity.)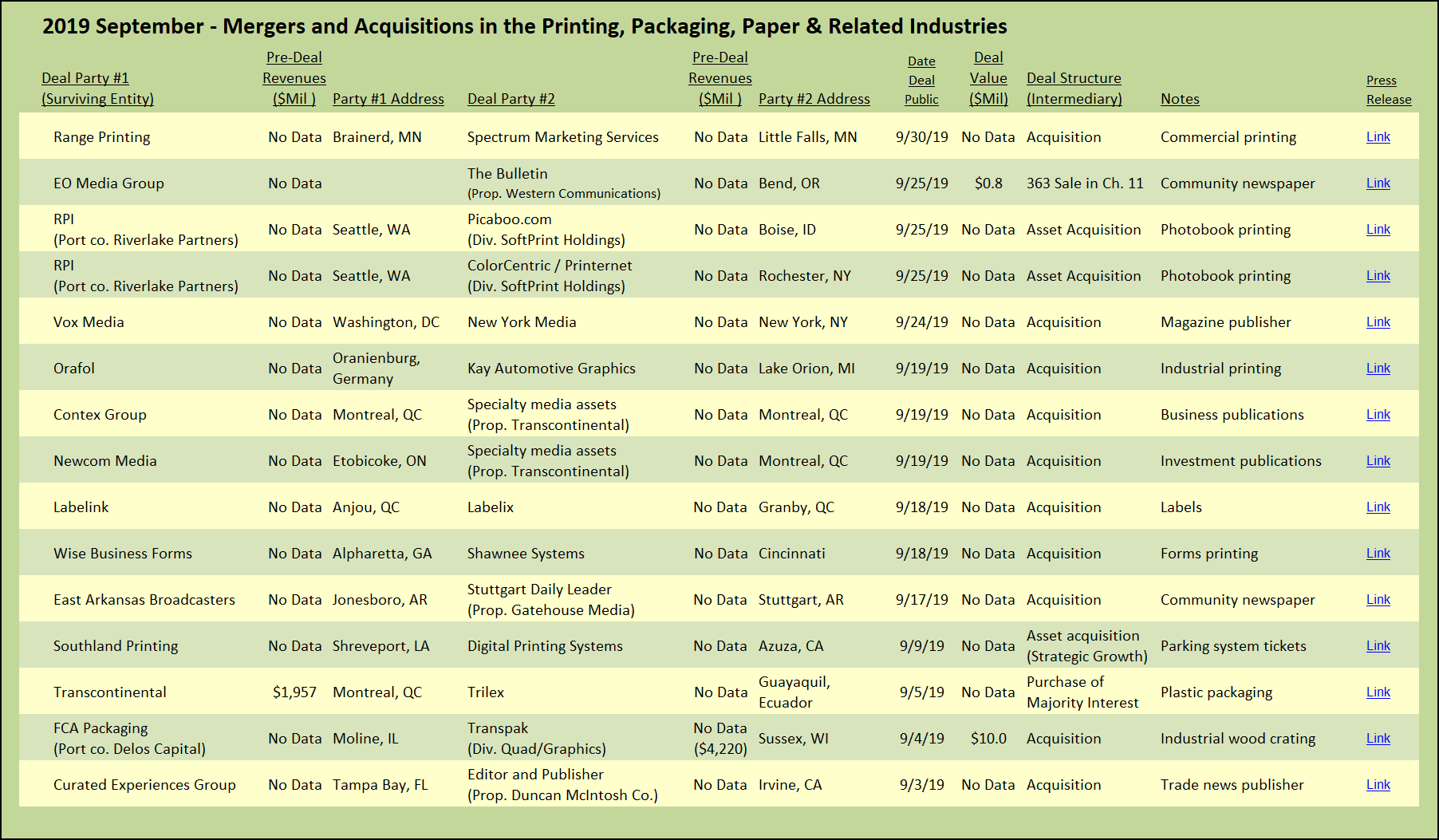 View The Target Report online, complete with deal logs and source links for September 2019