Access code accepted, I'm announcing my name
She's a disembodied voice, and I am the same
I hear the thrumming and hissing of space
My small talk dies in the crowd
She speaks, I picture her face
But I keep breaking up
And the pieces get lost in the cloud
—Aimee Mann and Jonathan Coulton
The number of songs that mention teleconferencing, Skype, and cloud computing are few and far between, but all come together in "Lost in the Cloud (Today I Work From Home)," singer-songwriter Aimee Mann's contribution to Xerox's "Set the Page Free" project, which kicked off late last summer and culminated in a special event October 27 at New York City's venerable 92nd Street Y.
The brainchild of a collaboration between Xerox and its ad agency, Young & Rubicam, "Set the Page Free" is a multi-channel marketing effort that gathered more than a dozen contemporary authors together for a unique anthology available in both print and ebook editions. Titled Speaking of Work: A Story of Love, Suspense, and Paper Clips, it includes perspectives on the modern workplace from writers such as Joyce Carol Oates, Lee Child (author of the Jack Reacher novels upon which the Tom Cruise movie series is based), Joshua Ferris (whose 2007 debut novel Then We Came to the End is a classic portrait of the modern workplace in and of itself—also be sure to check out his latest short story collection The Dinner Party), Jonathan Ames (novelist, screenwriter, and creator of the HBO series Bored to Death), Billy Collins (U.S. Poet Laureate from 2001 to 2003), Gary Shteyngart, Roxane Gay, Jonathan Safran Foer, Valeria Luiselli, and Alain Mabanckou.
Xerox's Set the Page Free project culminated in a book launch event at the 92nd Street Y, featuring readings by contributors to the Speaking of Work anthology.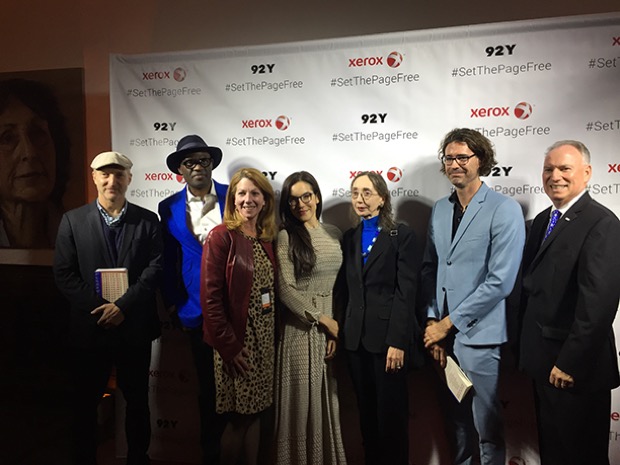 Left to right: Jonathan Ames, Alain Mabankou, Xerox's Toni Clayton-Hine, Sloane Crosley, Joyce Carol Oates, Jonathan Ferris, and Xerox CEO Jeff Jacobson.
"[Author and essayist] Sloane Crosley was our connective tissue," said Barbara Basney, Vice President Global Brand, Advertising & Media at Xerox, who spearheaded the project. "She looked at the contributions and found things about them that tied them together across a common theme."
The Set the Page Free project was initially conceived as a Xerox rebranding effort—but one that went beyond traditional rebrandings. "We wanted it to offer an opportunity to show 'the unexpected relevance of Xerox,'" said Basney "We have a strong, iconic brand, but sometimes people think of us as the Xerox we were in the past. We wanted this story to be what Xerox is about today. How can we artfully integrate the technology, the software, and the apps that Xerox brings to the table today?"
The idea for the book was the starting point, and that was where the 92nd Street Y came into the picture. "They had a Rolodex of authors that would participate," said Basney. The draw for the contributors was that Xerox was making a contribution to the 92nd Street Y, which is a 140-year-old cultural and community center that hosts readings, concerts, and other events. "They helped us with the editing of the manuscript, and that's how we ended up getting the talent."
(Lee Child commented, during his reading at the book launch event, that the appeal of the project for him was that "it would put me in the same book as Roxane Gay.")
Another partner in the project was Worldreader, which helps promote literacy through reading—specifically digital reading—around the world. "We wanted to have a more global element, and Worldreader is all about enabling literacy and reading using ereaders." All told, Set the Page Free was implemented in 22 countries and the website is available in three languages.
Authors have unique—and not always complimentary—perspectives on the workplace, and each of the contributors offered their own take. Jonathan Ames wrote a teleplay about a visit to a psychiatrist, Billy Collins wrote a poem about his father's New York City workplace circa 1953, and, said Basney, "Lee Child was really jazzed that he could write about something other than Jack Reacher." The book also includes the lyrics and sheet music for Aimee Mann's "Lost in the Cloud."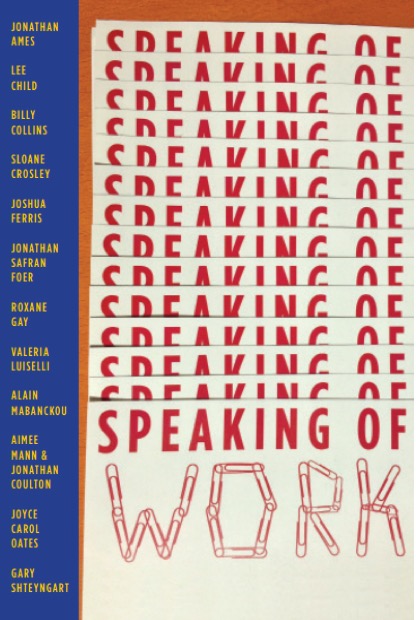 Speaking of Work is available as an ebook and in a limited-run print edition.
Once the contributions were assembled, the next part of the project was to create a series of video or audio clips of the contributors reading excerpts from their contribution, or talking about some aspect of the project—which also happened to include some Xerox technology, whether it be bestselling author Gary Shteyngart's "bed-based office" (featuring a Xerox Versalink multifnction printer); book designer Chip Kidd's exegesis on the paper clip; Lee Child's discussion of suspense, the writing process, and the quest for a lost napkin (subtly integrating Xerox's DocuShare Flex cloud content management system); and Sloane Crosley talking about the Speaking of Work book editing process, why she was a bad intern (career guidance advice: try not to spill champagne on John Updike), and Xerox's Easy Translator for translating Congolese poet and novelist Alain Mabanckou's contribution, which had been in French.
Speaking of Work is available for free download in three ebook formats (ePub, mobi, and good ol' PDF) and can even be personalized via Xerox's XMPie. A limited 500-copy print edition (text printed on a Xerox Nuvera and cover on an iGen4) was produced for the 92nd Street Y event, which included readings by Ferris, Ames, Oates, Mabanckou, and Child. Kidd, Crosley, and Bernard Schwartz, Director of the 92nd Street Y's Unterberg Poetry Center which commissioned the book, introduced the evening's events. Although Aimee Mann was unable to attend in person, the evening concluded with a recording of "Lost in the Cloud."
The ebook version of Speaking of Work can be personalized using Xerox's XMPie.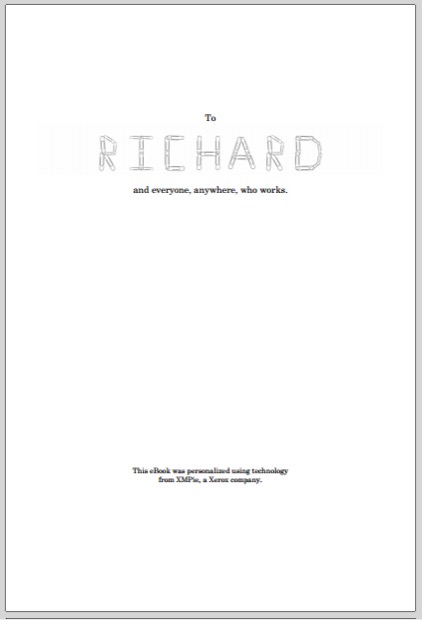 As marketing strategies and rebrandings go, said Basney, "it was a refreshing change, and it was amazing that every contributor was excited to be working with this roster of talent.
"Everyone is in such good company," she added. "It's an amazing collaboration, and a truly exceptional, unique project."