What do
Hemlock Printers
,
Rockport Publishers
, and
Stella Color
have in common? These companies have all come up with innovative ways of dealing with something that would have ordinarily gone into the waste bin and been recycled. Take a look at these creative approaches; then send pictures and a description of your waste reduction solutions. We'll give them a little "air time."
Hemlock Printers - Off Cuts for Charity (OC4C)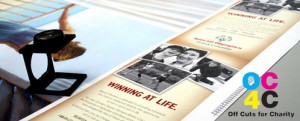 Off Cuts for Charity (OC4C)
is a program is designed to provide printing services to qualified charitable organizations by offering space on existing print runs, allowing them to "share the ride." Rather than simply recycling the unused space, Hemock uses it for the benefit of a social or environmental cause.
Rockport Publishers - Book Wrap and End Papers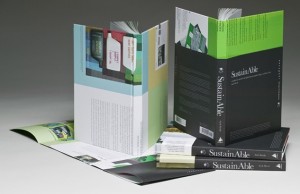 SustainAble
by Aaris Sherin, published by
Rockport Publishers
, is a book for graphic designers to provide information on sustainable applications in the areas of paper, printing, formats, materials, inks, etc. Rockport demonstrated several examples of unusual use of makeready and proof sheets by using them to bind the book and as end pages. And instead of a full paper jacket, a "demi-jacket" was created by printing on the reverse of more of the extra sheets that would have gone to waste.
Stella Color - Shopping Bags, Totes, Computer Sleeves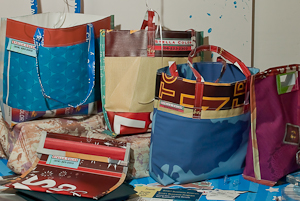 Stella Color
, a digital printing company located in Seattle, is known for pushing the envelope.
Lynn Krinksy
, founder, will push her equipment as far as she can on unusual substrates to create out-of-the-ordinary designs. To do that requires a lot of testing and that means a lot of waste. Rather than putting those test projects in the recycle bin, Lynn turns them into totes and shopping bags, pouches and envelopes, and other practical products.