Halls 4 and 6 and 9 and While I did wish I had a motorized scooter to zip around on, traffic was worse than Seattle's rush hour! I elbowed my way through the crowds and checked in on a few folks to see what they were up to. MIS solutions come in all flavors and in many languages, and all speak JDF! A sampling… (This is not a complete list of MIS vendors. Major providers like EFIhave been covered in other reports.)
Graphisoft (www.graphisoft.fr)
A full member of CIP4 and a member of NGP Partners, Graphisoft is testing or has completed testing with Creo, Agfa, EskoGraphics for prepress and Man Roland, Komori, Heidelberg, Ryobi, KBA, and Mitsubishi presses. Finishing machine connections are next.
Cool tool: Graph'email  a tool that allows the user to collect and organize information exchanged within a company and between the company and its customers, whatever the channel (email, fax, phone) and whomever the contact (customer, supplier, employee) in a single system fully integrated into the Graphisoft MIS.
HIFLEX GmbH (www.hiflex.com)
Also a member of CIP4 and NGP Partners, HIFLEX demonstrated its system that includes calculation, order processing, statistics, and materials management as well as production planning and control with production data collection and JDF interfaces. An eBusiness module and a document management system are also part of the software package.
Partnered with nearly everyone, HIFLEX was in about 40 booths, including those of AGFA, CREO, ESKO-GRAPHICS, KBA, KOMORI, MAN Roland and MÜLLER MARTINI.
Cool fact : HIFLEX, CREO, KBA, XEROX and MBO produced the NGP Daily, a magazine demonstrating JDF-supported production.
NovaVision Software a/s (www.novasoft.dk)
Yet another member of both CIP4 and NGP Partners, NovaVision was not everywhere, but it sure seemed like it. In the PrintVis' Software Partner's Booth, partners from Norway, Sweden, Denmark, Poland, Spain, France, Russia, United Kingdom, China and Hong Kong participate d. PrintVis is a certified ERP/MIS solution built on Microsoft Business Solutions' Navision®. PrintVis was also demonstrated in the Heidelberg booth and in the JDF Parc.
Cool fact: NovaVision's booth sounded like the United Nations!
Optichrome Computer Systems  Optimus2020 (www.optimus2020.com)
Optichrome, member of CIP4 and PrintCity and NGP Partners, demonstrated the Optimus 2020 MIS system linked to a number of solutions: ppi Media (Printnet) for scheduling and tracking; Agfa for digital asset delivery (Delano) and pre-press workflow (Apogee); Global Graphics (Harlequin) for proofing; Man Roland (Pecom) for press management; MBO (Data Manager) for folding; Wohlenberg (Bindcom) for perfect binding; and Müller Martini (Line Manager) for saddle stitching.
Printable Technologies (www.printable.com)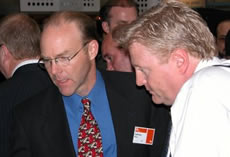 Tucked into the HP Booth, Printable Technologies' President and CEO, Coleman Kane (right), was seen demonstrating PrintFusion, which streamlines the process of creating, ordering, proofing and processing variable data print jobs.
Based on predefined, press-ready PDF templates, PrintFusion enables print customers to place an order for frequently ordered items and follow the job through the production and fulfillment process.
Cool guy: Coleman at the top of his game! Always loves to talk about Printable Technologies
Prism (www.prism-world)
While we've generally heard from the folks at Prism-USA, it was the Prism-Europe contingent that manned (personed?) the NGP Partner Pavillion and the JDF Parc booths. The latest Prism WIN release, the iQ QTMS system, and PrismWIN Express were all on display demonstrating JDF integration with pre-press and press systems.
Radius Solutions, Inc. (www.radiussolutions.com)
In the NGP Partners Pavillion, NGP Partner and CIP4 member Radius Solutions demonstrated PECAS Vision II, which includes the following modules: estimating, order handling, raw materials and purchase ordering, costing, production scheduling, shop floor data collection, and financial accounts all of which implement EDI, bar coding, e-commerce, and a wide range of management reports.
Tharstern Ltd (www.tharstern.co.uk)
Another NGP Partner and CIP4 member demonstrating in the Pavillion, Tharstern offers an open system that can be fully integrated. Modules include estimating, job costing, purchase order processing and stock control for raw materials, sales order processing, production scheduling, accounts integration and reporting, customer online e-commerce, shop floor data collection, and customer relationship management.
Cool fact : Tharstern is the first MIS provider to produce a Windows ® -based product; TharsternSQL is designed around Microsoft SQL Server.
Final observations
As my drupa stay wound down, you can see where my mind was! My feet  and the rest of my body  was searching for the right place to take a brief break. Seating was a commodity hard to come by and usually required attention to a presentation. Here are Goldilocks' chair choices: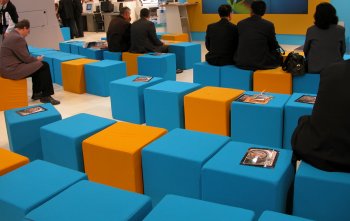 Too short and fat!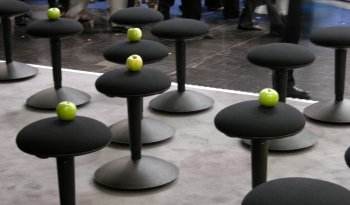 Too tall and skinny!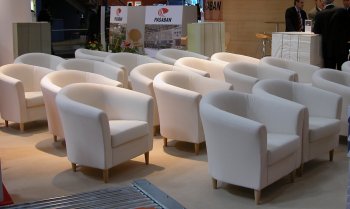 Ahhhhh! Just right!
See you in 2008!