The drupa debate this year was: revolution vs. evolution Was drupa 2004 an innovative trade fair with a lot of revolutionary technology or was it primarily the next step along the revolutionary path launched in 2000? Regardless of the side of the question on which you stand, there were some nifty pieces of technology for everyone looking.
Labels on Demand
Print on demand applies to a lot more than marketing collateral; for example packaging on demand, wallpaper on demand, and even labels on demand. Matan Digital Printers launched the Spring digital printing system for tags and labels. Just think of the opportunities! Customized wine labels, for example. A wine bottler could personalize a case (or 2 or 10) for a favorite customer. How about test marketing a new sauce? Who needs 50,000 labels when testing colors, graphics, or a new layout?
Using Matan's thermal transfer technology, the Spring provides up to 400x1600 DPI, and can print spot colors, process colors, metallics and white. Add an inline digital die-cutting system, and you have a complete label on demand system, at a very reasonable price. I brought home samples printed with process colors and both gold and silver on the same design.
You'll need to chat with the folks at www.matanprinters.com to get a price quote on your configuration. Imagine, label printers can add this system and offer extremely short run for their regular label customers, or commercial printers can add labels to their range of services.
Personalized Cookies? Yum!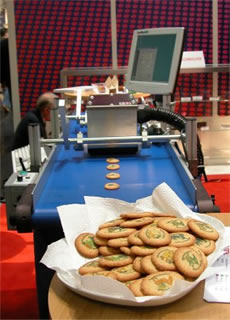 Spectra, Inc., manufacturers of precision piezoelectric ink jet print heads, provided a technology demonstration printing images on cookies! So what's the point you say?
Just think of all the flat surfaces that could be printed with food-quality, edible dies and integrate that with the concept of print on demand.
Combine short run and variable data with any edible flat surface and the end result is personalized food.
Promotional items will never be the same! Cookies printed with your daughter's Girl Scout troop number and slogan Why stop with printed hot dog wraps to for snacks at the football stadium? Print the home team's name or logo on the buns!
Spectra is not some Johnny-come-lately to ink jet technology: nearly all the major ink jet printer manufacturers use Spectra ink heads. Many of them are super wide format printer manufacturers.
For more information, see www.spectra-inc.com .
Making 3D Mainstream
The crowd around the HumanEyes corner of the KBA booth never got smaller. HumanEyes also demonstrated its technology at the HP booth and the Inca Digital Printers booth.
And, I'll admit it; I got my picture taken too! With a professional digital camera, a rotation arm or tripod with an extension arm and rotation option, and a continuous high quality light source are all that's needed to take 3D pictures.
Add a Mac running OS 10.1.5 or 10.2 (minimum 700 MHz) with a firewire connection and a high capacity, fast memory card, Quick Time 6, and a standard monitor; and you're there. As far as output, you can use anything from a desktop printer to production digital, photographic or offset printers.
Human Eyes has combined 3D stereo and panorama photography and created patented technology that uses mathematical algorithms to create unique projections and reconstruct multiple viewpoints, which allows viewing of a scene from different directions. The technology is suitable for creating 3D images for print and display. OK, I'll admit that while 3D cell phones are already on the market, one is not on my Christmas list this year. However images created with the HumanEyes technology can be viewed on new display technology being developed by Sharp and the 3D Consortium (3DC).
Just a few applications might be  posters, vehicle wraps, point of purchase, vending machine signage, packaging, magazines, newspaper/magazine inserts, greeting cards, and the list goes on
For more information go to www.HumanEyes.com .